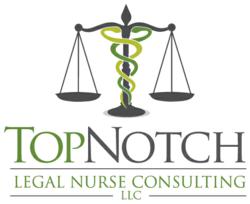 We only have a limited amount of time to make a difference in the lives of people who have been harmed. Why not maximize your opportunities to do so, and connect with us today?
Silver Spring, MD (PRWEB) May 30, 2013
TopNotch Legal Nurse Consulting, LLC is happy to announce that it will be one of the exhibitors at the Annual Meeting of the MD State Bar Association in Ocean City, MD June 12-14th.
TopNotch Legal Nurse Consulting, LLC is currently accepting new clients in Maryland, and nationally. Attorneys who work with cases involving medical or nursing issues, and who would like to simplify their lives are encouraged to connect with us. There are many reasons why attorneys may seek out the services of a legal nurse consultant. Whether it's fighting for every hour of the day to get things done, feeling overwhelmed with their caseload, or just need assistance weeding through potential cases to find those that have merit...these are perfect reasons to engage TopNotch Legal Nurse Consulting to help out.
It is the mission of TopNotch Legal Nurse Consulting to simplify and reenergize the client's work life to enhance their success. This is done by leveraging their time, so that the clients can spend more time focusing on the legal issues of a case (or other important things) and while we focus on the nursing and medical issues. This type of collaboration between a nurse and attorney has proven benefits for both the attorney and their clients.
Susan Bailey, MSN RN-BC CLNC is the owner and Legal Nurse Consultant from TopNotch Legal Nurse Consulting, LLC. She has over 20 years of nursing experience coupled with specialized training as a Legal Nurse Consultant. As a member of the National Alliance of Certified Legal Nurse Consultants (NACLNC) she also has access to a wide variety of experts in the specialties of nursing. This gives her the ability to help her attorney clients with any case involving medical or nursing issues.
We will be on hand to answer questions and make connections at the Maryland Bar Association Meeting in June. If you are coming to Ocean City stop by and say "hi" - Attorneys could save up to $750 in consulting services!