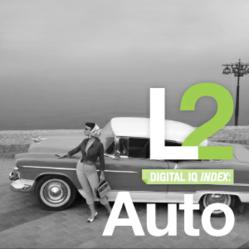 Automakers' response to the changing mobile landscape, evolution of third-party reference sites, and the influx connected-car services will separate winners from losers in the post-crisis years
New York, NY (PRWEB) May 17, 2013
Today, L2 released its Digital IQ Index®: Auto 2013, a comprehensive assessment of 42 Auto brands' digital performance over the past year. Despite a decade of financial setbacks and reputational woes, the U.S. Auto industry is in comeback mode, led in part by a successful commitment to digital. In this year's Index, Detroit-based Ford, Jeep and Chevrolet took the top three spots, respectively, beating out strong competition from Toyota, Nissan, BMW, Mercedes-Benz and others.
In addition to the rankings—which are determined by a methodology that quantifies brands' Site, Digital Marketing, Social Media and Mobile efforts—this report also offers analysis of industry trends and best practices and features several in-depth 'Flash of Genius' case studies. Authored by Scott Galloway, L2 Founder and NYU Stern Clinical Professor of Marketing, this new Digital IQ Index®: Auto study provides a data-driven picture of how brands are (and aren't) effectively using online channels to reach, assist, and cater to digitally-native car buyers across the world.
"Auto is entering a new phase of disruption traced to digital platforms. Automakers' response to the changing mobile landscape, evolution of third-party reference sites, and the influx connected-car services will separate winners from losers in the post-crisis years."
–Scott Galloway, Author, Digital IQ Index®: Auto 2013
To download an excerpt of the new report, use the link below: http://www.l2thinktank.com/research/auto-2013/
Study Highlights:

Automakers with high Digital IQs are increasing new vehicle sales at 11 percent annually, versus 3 percent among lower-performing brands.
Automakers are nearly four times more likely to engage in paid mobile search than paid desktop search, indicating a desire to influence prospective buyers with local intent.
While 86 percent of brands maintain sites optimized for smartphones, nearly one in four brand sites has missing or broken components when accessed by a tablet.
A one-point increase in a brand's Customer Service score results in a 20-second increase in time spent on-site.
About L2
L2 is a think tank for digital innovation that helps prestige brands navigate the digital marketing landscape through education, research, and advisory services. The L2 Digital IQ Index® is the global, seminal benchmark for digital performance of brands and the largest and most robust study of its kind. Rankings are published annually across numerous industries, including: Luxury, Beauty, Retail, Travel, Spirits, Auto, and consumer packaged goods. For more information, visit: http://www.l2thinktank.com.
###