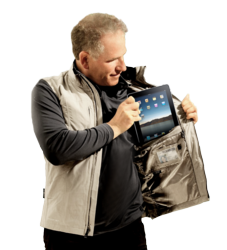 "Yes, we at SCOTTEVEST embrace our customer in all shapes and sizes. Brains matter more." - CEO Scott Jordan
Ketchum, ID (PRWEB) May 17, 2013
High-tech clothing brand SCOTTEVEST (http://www.scottevest.com) makes their stance clear: brains reign over physical beauty.
In response to the recent uproar over the admission made by Mike Jeffries, CEO of Abercrombie & Fitch, that A&F actively attempts to exclude certain people that are not deemed "cool," SCOTTEVEST felt it important to stand up against this form of discrimination (read Jeffries' full interview on Salon.com). Known for their TEC-Technology Enabled Clothing® line, SCOTTEVEST counts many self-proclaimed geeks in their ranks of fans and supporters, a category of people that would ostensibly be excluded from Jeffries' definition of cool.
"Here at SCOTTEVEST, our customers believe Brains reign over Beauty," said Scott Jordan, CEO of SCOTTEVEST. "You are what you carry, regardless of your size or popularity. We like to think that things have progressed since we were all in high school."
Inspired by these recent events and after significant feedback from their customers, SCOTTEVEST is also announcing that they will be expanding their size offering for a new product that will be launched in October.
"This October we are launching a new down vest for women that will be available in 'M Sizes' (for Marilyn), because that's what our customers have been asking for... and that's just the beginning. If this sizing proves to be popular we will start to add it to other styles," wrote Jordan in his company's weekly e-mail newsletter.
The SCOTTEVEST response is not just one brand taking a shot at another, insisted Jordan. It's about embracing a genuine appreciation for the diversity a global brand can attract. Even in an era when geek can be chic, today's innovators may have been yesterday's unpopular kids, and that's part of the lesson: the important things endure. Scott Jordan concluded, "Please, please, please... love yourself for who you are and who you become on life's journey."
About SCOTTEVEST:
SCOTTEVEST is one of the world's leading travel clothing companies and specializes in TEC-Technology Enabled Clothing® in the form of stylish jackets, shirts and pants with unique, hidden pockets. SCOTTEVEST was the first clothing company to provide a pocket for the iPad®. Led by CEO and Founder Scott Jordan, the company's success caught the eye of Inc. magazine, which named SCOTTEVEST one of the fastest-growing companies in America. As the first clothing brand launched exclusively on the Internet, Internet Retailer has included TEC by SCOTTEVEST in their Hot 100 list of top online companies for several years. SCOTTEVEST products are available online at http://www.SCOTTEVEST.com.