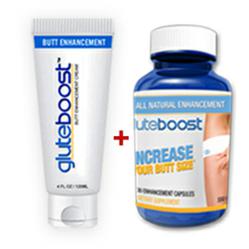 Houston, TX (PRWEB) May 21, 2013
Calling all women who want a bigger, more beautiful butt! The perfect butt could be achieved simply by applying a just-released, herbal-based cream every day as recommended, according to the makers of the highly anticipated GluteBoost Buttock Enhancement Cream.
According to an announcement on the company's website (http://www.gluteboost.com), GluteBoost Buttock Enhancement Cream is said to help women achieve a noticeably bigger butt in just one to two months, with permanent results after six months of continued usage.
"Most women want to have butt like Kim Kardashian or JLo," said Jonathan Weisman, President of GluteBoost. "GluteBoost can help women increase their butt size by more than 20%, without the need for risky and expensive surgeries or implants. It's safe and contains the highly effective herbal ingredients Volufiline™ and Voluplus™."
Volufiline™ comes from the extract of Zhu Mu, a Chinese herb. This potent ingredient stimulates the body to increase fat production in the area where it's applied.
Voluplus™ is a natural active ingredient that comes from nutmeg dissolved in macadamia oil. It has been shown to increase tissue density and stimulate the formation of fatty cells, creating a volumizing effect.
"Both of these key ingredients have been extensively studied and tested, and they can increase butt size and shape when applied to the area," said Weisman. "Our butt cream contains significant levels of both Volufiline™ and Voluplus™ to deliver maximum results."
GluteBoost Buttock Enhancement Cream's release comes on the heels of the overwhelmingly successful GluteBoost Butt Enhancement Pill. Over 250,000 have been sold, according to the company's official website (http://www.gluteboost.com), making it one of the most popular butt enlargement supplements on the market today.
"Customers around the world love GluteBoost pills," said Weisman. "There are thousands of success stories, and we look forward to seeing more of them with the release of our butt enhancement cream."
For more information on GluteBoost pills or the newly released GluteBoost Buttock Enhancement Cream, visit the official website at http://www.gluteboost.com.
About GluteBoost
The GluteBoost (http://www.gluteboost.com) line of all-natural products help women increase their glute size while trimming fat from unwanted areas. Manufactured in FDA-approved facilities, GluteBoost Butt Enhancement Pills have sold more than 250,000 units to date. GluteBoost Buttock Enhancement Cream is set to be released on April 1, 2013. GluteBoost embraces customer feedback, has top-rated customer service, and boasts a 100% satisfaction guarantee. For more information, please call toll-free at 1-800-926-6787 or email jw(at)gluteboost.com .