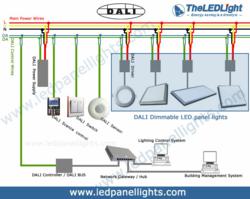 (PRWEB) May 17, 2013
The LED Light (China), a leading LED light manufacturer and wholesaler from China, has just released its new DALI dimming LED panel light to enrich its production line.
According to a senior spokesman for the company, DALI is an International Standard (IEC 62386) for the control of electronic ballasts, transformers, LED's, emergency lights and exit signs in an easy to manage digital lighting control system. The new DALI dimming LED panel light is designed to replace traditional light fixtures for various applications.
"We are excited to introduce our new design to our LED distributors worldwide. The new product comes with many innovations, and it is absolutely a new-generation product in the LED industry. The most attractive advantage is that it is a perfect combination of LED and DALI system," say, the senior spokesman. "Now, the DALI dimmable LED panel light is available, those who are interested in this new product should visit our website as soon as possible."
The spokesman continues, "DALI system is a very advanced dimming system in the current LED industry, and it is widely used in Europe, Australia and other countries. We have eight years experience in the LED panel light industry. We know what customers need, and we can always provide suitable products for them.
About The LED Light (China) Co., Limited
Founded in 2005, The LED Light (China) Co., Limited is a professional manufacturer of LED products, and its 99% LED light panel products were exported to Europe and America in the past eight years. The company is dedicated to designing and providing functional, high-quality, and eco-friendly LED products to its customers worldwide.
More information about LED panel lights can be found at: http://www.ledpanellights.com/.