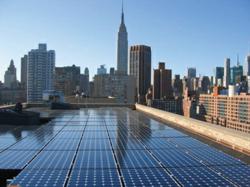 (PRWEB) May 20, 2013
Demonstrating the company's commitment to providing quality low cost DIY solar kits, Peak Solar aggressively pursues purchasing deals with leading manufacturers. Recent negotiations have led to a new buying agreement with a tier one producer of solar parts, and Peak Solar is passing that savings directly to their customers. The deal is available online immediately by visiting the website (http://www.peaksolar.com).
Furthering the money saving opportunities, Peak Solar is currently working on securing similar deals with manufacturers of solar electric system racking components and adding new higher wattage panels to the solar kit product lineup. The new 260 watt mono modules can be paired with the Power-One inverter, providing one of the most cost competitive DIY solar setups available on today's market.
How much difference does the savings make to consumers? Residents can expect to see a faster return on investment. In North Carolina and Tennessee, the rate is currently 23 to 24 percent. Solar kit users in Hawaii and California will recognize complete system payback in as little as three years. This trend is being echoed by Peak Solar customers all across the nation.
Peak Solar is a leading supplier of DIY solar kits and high quality, low cost solar electric systems. With decades of industry experience, team members are available to provide free assistance via online chat. In addition to finding a wealth of economical solar solutions, residential and commercial consumers can also learn about photovoltaic power and how to save money on implementing solar electric systems.
John Bucher,
1-805-765-2781
JrBucher(at)PeakSolar(dot)com
About Peak Solar:
The Peak Solar team has over four decades of experience in solar development and engineering. Together, they are working to make the science of solar energy a reality for average Americans. In addition to supplying photovoltaic systems, power inverters, DIY solar kits and components for residential applications, the company is a provider for large scale commercial projects and development.