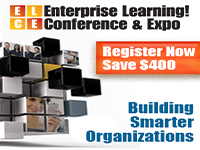 Oceanside, CA (PRWEB) May 16, 2013
Elearning! Media Group, the exclusive industry trade brand serving the enterprise learning market, will host its annual Enterprise Learning! Conference & Expo (ELCE) on August 26-28, 2013 in Anaheim, CA, where seven in-depth Master Classes will tackle learning's hot topics of fundamentals, sales performance, mobile, gamification, measurement and video. Attendees will learn from industry experts who are transforming enterprise learning, sharpen their skills and walk away with an immediate action plan.
Beginning August 28th, ELCE will host a full day E-learning Fundamental Workshop. Josh Cavalier, CEO of Lodestone will focus on the practical steps to establishing, designing and developing e-learning. This one-day workshop is targeted for individuals who are just getting started with e-learning. Cavalier will breakdown the entire development process using real world examples, and run through exercises to reinforce the concepts. Learn how to scope out a project, choose a proper level of interactivity, select media, and decide on an authoring tool. Find out the secrets to maintaining control of your eLearning projects.
Take a deep dive into L&D Measurement with Jeff Berk, KnowledgeAdvisors. This master class will provide an overview of the basic elements for doing both practical and repeatable learning measurement with resource limits and for doing the more exhaustive learning measurement when there is a strategic, visible or costly program. Factors such as smart sheets vs. smile sheet, executive reporting, balanced performance indicators, change management and communicating results will be discussed and exercises will facilitate the understanding of key points.
Pathways to Growth: How to Build a Winning Sales Organization Master Class will be hosted by Walter Rogers, CloudCoaching International. In this half-day class, Walter Rogers, co-author with Tony Robbins of the acclaimed book "Pathways to Growth" and renowned sales coach will introduce Sales Management System with 9 essential disciplines to achieving your growth strategy
Hear from Michael Rochelle, Brandon Hall Group to discover the 4 steps to selecting the right LMS and TMS. Invest 3 hours in this ELCE Master Class to save $1000's. Rochelle will address key issues with a particular focus on user requirements gathering and user case development. The session will be highly interactive learning session.
Gamification has moved beyond buzzword status and is quickly gaining traction across online and mobile worlds alike, as L&D teams look for ways to introduce game mechanics into their curriculums to drive engagement. This Master Class begins with an overview of game-enabled learning environments and the various market conditions, solution providers and resulting behaviors. Learn from Robert Gadd, OnPoint Digital how gamification is driving enterprises to add game dynamics and mechanics into their learning programs.
Mobile learning is being adopted by 68% of enterprises. John Moxley, Director of Leadership Development at Cricket Communications will guide you through mobile learning planning stages, best practices, development options, design considerations and mobile learning tools available.
Over 4 billion videos are viewed on YouTube per day. ELCE will host a post-conference offsite workshop. Lights, Camera, Action Workshop will take place at Ferrari Studios in San Diego, CA. Attendees will have the ability to take content to this next level and learn the do's and don'ts of video production from a professional producer. Attend this workshop and learn the do's and don'ts of video production from a professional producer. Phil Ferrari, Producer, will lead a team through the process of creating a video commercial. From script writing, talent recruitment, live video production, editing and collaboration, participants will experience both sides of the camera.
ELCE Workshop passes start at $249. Register now for any of these Master Classes and save up to $300. Special discounts are available for government, education and non-profit organizations, as well as groups of three or more. Add a workshop to your conference attendance, and save more. Early bird discounts expire May 31st, so register today at http://www.elceshow.com. For sponsorship or exhibitor information, contact sales(at)2elearning(dot)com or call 888-201-2841 x845.
About Elearning! Media Group
Elearning! Media Group is owned by B2B Media Group LLC. Elearning! Media Group consists of eleven media products including: Elearning! Magazine, Government Elearning! Magazine, e-magazines, e-mail newsletters, Alerts, Websites, Web seminars, the Enterprise Learning! Summit and Enterprise Learning! Conference & Expo. Elearning! Media Group serves the $160 billion e-learning market. Suppliers and practitioners can follow us: online at http://www.2elearning.com, http://gov.2elearning.com; on Twitter: 2elearning or #ELCE13; via Facebook: Elearning!-Magazine or LinkedIn: Elearning! Magazine Network
Enterprise Learning! Events
In its sixth year, Enterprise Learning! Events bring onsite and online audiences together to learn, network and share. Mark your calendar for Enterprise Learning! Conference & Expo, the exclusive learning and workplace technology marketplace, August 26-28th, 2013 Anaheim, CA. Enterprise Learning! Conference & Expo hosts the Best of Elearning! Awards Luncheon and Learning! 100 Award Dinner. For more information about the Enterprise Learning! Conference & Expo visit http://www.elceshow.com.