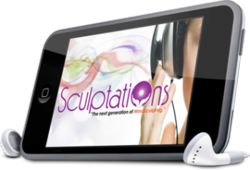 In just a matter of minutes, they experience a newfound mindset of success.
Marina Del Ray, CA (PRWEB) May 22, 2013
As part of their mission to inspire others to live extraordinary lives, Paul Hoffman and Lacy Arnold of The Success Creation Institute announce the launch of Sculptations, a brand-new, scientifically engineered audio tool that anyone can use to "Sculpt" the life he or she wants.
"Lacy and I developed the whole mind-body technology of Sculptations so that everyone could experience the power of MindSculpting—no matter if they are just getting started, or if they've been meditating for years," commented Sculptations creator Paul Hoffman. "In just a matter of minutes, they experience a newfound mindset of success."
Hoffman emphasizes that there are 10 Sculptations Series in the Sculptations Level 1 Life Collection. Each audio has a different focus. For those who want to entrain their minds for wealth and new professional opportunities, The Money Map Sculptation Series is ideal. For those searching for a burst of creativity, The Inspiration Sculptation Series offers the listener an abundance of brilliant, innovative ideas.
Sculptations is distinguished by its Multivariate Resonance Technology, or sound frequencies that are carefully crafted to stimulate, balance, and activate the four holistic intelligences.
Additionally, the audio collection is a unique blend of binaural beats and heartbeat and breathing rhythms, all of which are embedded in empowering MindSculpting music. As a result of this powerful combination, Sculptations Mindsculpting Tracks are scientifically proven to affect brain wave patterns to induce positive effects, including:
Heightened focus
Expanded creativity
Greater problem-solving capabilities
Better pain control
Enhanced learning capacity
A more intimate physical connection with one's partner
An ideal environment to attract success
Lacy Arnold, fitness and nutrition expert for busy moms, adds, "MindSculpting is for everybody! Just like you work at sculpting your body, you should also spend time sculpting your mind."
Through both guided visualizations and non-guided audio tracks, Sculptations MindSculpting Tracks seamlessly enter into the listener's consciousness, interacting with brain chemistry to create new neural pathways. From this point, he or she can harness the power of a focused, receptive mind.
Those who want to fundamentally transform their lives and experience a mindset of success can learn more about Sculptations here: http://www.sculptations.com.
About Sculptations
As one of the foremost pioneers of audio meditation technology, Paul Hoffman created Sculptations to help people go from the impossible to the possible. Today, he and Lacy Arnold—an expert on mindset, holistic lifestyles, and health and wellness—work together to empower others to Sculpt their minds and live fulfilling and successful lives. Sculptations is their groundbreaking MindSculpting audio that inspires and allows people to take action and participate fully in Sculpting their lives.