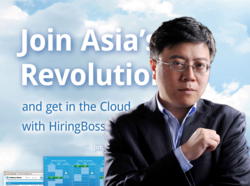 Suppliers need to set themselves up as a dedicated Asian vendor with a team committed to taking China seriously.
Shanghai, China (PRWEB) May 20, 2013
HiringBoss, the SaaS HR and recruiting specialists, today announced their first China office in Shanghai. HiringBoss China operations will be led by newly-appointed North Asia Regional Director and seasoned industry leader, Kevin Xia. The HiringBoss Shanghai office kicks off the company's ambitious plans to take on the Chinese HR software market and marks another significant step in their move to dominate the HR technology market across the Asia region.
China is widely recognized as one of the most dynamic and challenging markets in the space of Human Capital and Recruiting in Asia. Over the past five years, the country has experienced rocketing growth, high inflation and rapidly professionalizing organizations across various industries. As a result of this growth, companies have responded by establishing necessary HR systems, processes and frameworks.
There are massive opportunities to continue this evolving process in China's HR and Recruitment space, yet HiringBoss COO Rolf Bezemer feels there have been too many vendors trying to make easy money. Bezemer today comments:
"Until now, the majority of US and European HR software providers have focused exclusively on servicing multinational companies here in China, but they are missing out on the local companies who are growing much faster. At HiringBoss we are focusing on domestic Chinese, as well as multinational customers. This means backing up our fully localized suite of products with in-country support."
"With growth comes bigger opportunities for software companies and other vendors to benefit from helping local businesses setting themselves up in China. Compare this to Multinational organizations who are already highly organized and established with supplier agreements and technology in place." Bezemer continues to explain that to be successful in the Chinese market, "Suppliers need to set themselves up as a dedicated Asian vendor with a team committed to taking China seriously. That's what makes HiringBoss different. Our team here, lead by Kevin Xia, are looking forward to bringing the HiringBoss HR revolution to China."
HiringBoss China will be headed up by, Kevin Xia, who joins as Regional Director of North Asia. Xia will lead the charge in building the HiringBoss network within China, Hong Kong, Korea and Taiwan over the next 18 months.
"With Kevin, we have in place someone who has broad HR IT experience, including a deep understanding of the US and local Chinese markets. He understands the complexity of this market, that it is not possible to simply copy what is happening or working in the west to be successful in China. Kevin's immediate objective is to set up the HiringBoss business in Shanghai, where he will act as Country Manager for China. We are anticipating China to be the fastest growing business unit in Asia. We have an immediate focus of building presence in Shanghai, create momentum and then expand into Beijing, Guangzhou, Hong Kong and greater North Asia." Rolf Bezemer, COO, HiringBoss
About Kevin Xia
Kevin is a leading industry expert in the Chinese SaaS and HR market with strong ties to the US market where he graduated with a Masters in Engineering from Stanford University. Kevin brings outstanding experience in the IT space having worked for software giant Oracle in both the US and China for over 6 years, in a variety of positions ranging from engineering, product management and sales leadership. In his last role at Lumesse (formerly known as StepStone Solutions), Kevin spent 3 years leading the Chinese team, acquired & served many prestigious global & local customers/brand-names, and successfully adopted Talent Management & Talent Acquisition initiatives.
Why HiringBoss China?
1. The general HR IT market in China is largely being ignored and under-served. This industry is growing very fast and brings with it a wealth of opportunities which HiringBoss are embracing.
2. Existing HR IT industry players, including many local and international companies, are still missing some significant opportunities and growth potential in China. The HiringBoss business model is different and has been designed to be successful in this unique market.
3. HiringBoss are committed to the China HR IT market. They are willing to put together a top-notch team, have designed products and services which fit into the Asian market.
About HiringBoss:
HiringBoss is HR and recruiting software designed for global and local businesses in Asia. Launched in 2011, HiringBoss is one of the fastest growing tech start-ups in Asia.
HiringBoss combines innovative new features, multi-language compatibility, intuitive design and a low entry-level price point. Suitable for businesses of all sizes, we have clients across a range of industries spanning Government, Engineering, Manufacturing and Pharmaceuticals. These include Mitsubishi Fuso, Tata Consulting and BMW Financial Services. With offices currently operating in Singapore, Japan, Vietnam, Indonesia, China and a further 6 Asian countries in the pipeline for 2013, HiringBoss are currently available in 9 Asian languages plus English.
HiringBoss recently secured significant investment from JAFCO, the largest and most prestigious investment firm in Japan. This recent investment has been used for increased R&D, support and passion in delivering the best applicant tracking and HR solutions we can for our customers… and further illustrates our commitment in establishing HiringBoss as Asia's leading HR and Recruiting software provider.
We are currently actively sourcing talented people in Indonesia, Japan, Thailand, Malaysia, Malaysia and China to become part of the HiringBoss story. Visit http://www.hiringboss.com for more info.