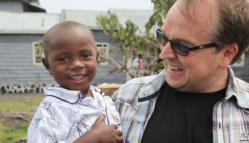 Everybody on this planet has the same right as you and me...to have a safe life
Brooklyn, NY (PRWEB) May 17, 2013
Brooklyn real estate attorney Robert Howe - host of the online radio show Howe's New York - welcomed Arlene Rutuelo and Rune Edvardsen to the show on the eve of Norway's Constitution Day to preview the upcoming Norwegian Day Parade taking place this weekend in Bay Ridge section of Brooklyn, NY.
The show, which addresses topics concerning local and national real estate, small business and community events and activities played host to parade organizer Arlene Rutuelo and humanitarian and founder of the Dina Foundation, Rune Edvardsen to learn about the weekend's activities which feature lectures by Edvardsen on the Dina Foundation's work in the Democratic Republic of the Congo.
"It's important for us as a culture to revisit the history and educate the people around us to the valuable contribution Norwegians have made in the New York area," said parade organizer and owner of the Nordic Delicatessen Arlene Rutuelo.
Each year on May 17 Norwegians fill the streets with cheers and flags in celebration of Norway's constitution, adopted in 1814. While his countrymen are observing the 199th anniversary of the constitution, Mr. Edvardsen will be taking in one of the largest Norwegian parades of this type in the country in the city that at one time boasted the third largest Norwegian population in the world.
"Everybody on this planet has the same right as you and me...to have a safe life," said Dina Foundation founder Rune Edvardsen.
The interview can be heard in it's entirety on Howe's New York.
About Dina Foundation
The Dina Foundation is a non-profit organization that provides aid and long term relief in countries in the Third World. The majority of our work takes place in Congo, Rwanda, Burundi, India and Indonesia. The intent of the foundation is always to help the most needy and vulnerable in the regions where we are active. Our focus has therefore been on children and women who are victims of war and sexual violence, and persecuted minority groups such as the TWA people, also known as pygmies.
About Robert Howe
The Law Offices of Robert Howe - serving New York for over 31 years - are located at 251 86 Street in Brooklyn, NY 11209 and his offices can be reached at (718) 748-9700. Robert Howe can also be found on Facebook and Twitter @RobertHowePC.