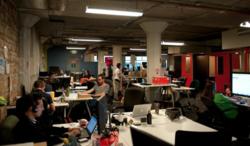 Make the leap into starting your own business.
Austin, Texas (PRWEB) May 17, 2013
TechStars is a startup accelerator with locations in Boston, Boulder, Chicago, New York City, Seattle, London and now Austin! The Managing Director of TechStars, Jason Seats, announced during RISE Week the expansion into Austin, alongside Capital Factory founder Joshua Baer, where it will operate from. Other incubators in the area include Tech Ranch, Austin Technology Incubator, DreamIt Ventures, and Incubation Station
Austin has been named the best place for new startups by the likes of Forbes and recently became the second city chosen to receive Google Fiber, beat out only by Kansas City, Kansas. University of Texas is also a large driving force behind the growing startup community, with programs centered around entrepreneurial pursuits.
Startups better have true grit to gain acceptance into the TechStars program. Although thousands of companies apply each year, TechStars only invests money and time in about ten companies per program location. If you are hopefully optimistic, TechStars will launch its first program this August, and is currently accepting applications.
Living in Austin provides the social netting to help inspire people to quit their day jobs and make the leap into starting their own business.