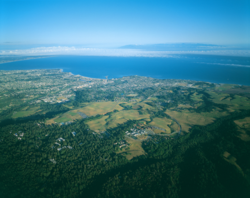 "BalanceME weight loss camps are the most effective programs I've seen in my near decade in this industry." commented Jeremy Whitworth, Weight Loss Camp California Camp Director
Santa Cruz, CA (PRWEB) May 17, 2013
BalanceME, a leading fitness and weight loss camp in California for ages 10 – 20 proudly announces Jeremy Whitworth as Camp Director. Mr. Whitworth brings decades of camp experience with specific expertise in the health, wellness, and weight loss industry. Whitworth, a former college athlete and current Crossfit trainer and competitor, has run weight loss camps all over North America and has appeared in a number of documentaries and media pieces covering residential weight loss programs.
"BalanceME weight loss camps are the most effective programs I've seen in my near decade in this industry," commented Whitworth. "The caliber of staff we have in education and experience is above any other camp out there."
BalanceME weight loss camps California and Cape Cod locations hire staff from top universities around the country, with many staff having Master's and Doctoral level degrees in health-related fields. Staff includes doctoral candidates in health education as well as staff with masters in nutrition science and dietetics, kinesiology, clinical nutrition, and sports psychology. Staff at BalanceME camps comes from leading universities such as Cornell, University of North Carolina, Brigham Young University, and University of Kentucky.
"To run the most effective and medically based program you need dedicated staff with expertise in diet, fitness, and behavioral change, and we have done that at BalanceME," commented John Gordon, BalanceME Camps CEO, "Jeremy's experience as a camp director and operator in the weight loss camp industry are rare and reflect our hiring goals as we strive to help campers lose weight, gain confidence, and get healthy."
Whitworth ran cross country and track for Brevard College where he attained a degree in Wilderness Leadership and Experiential education. He coaches and competes in Crossfit when he's not running camps, owned a rock climbing gym for a number of years where he coached youth climbing teams, and has run weight loss camps all over the US and Canada.
Campers at the weight loss camp California location will learn the ME Plan designed to Motivate & Educate on what works for lasting teen fitness and weight loss. Ms. Whitworth's role will be to ensure the skills and motivations are instilled in every camper and staff member in order to ensure lasting health success.
BalanceME weight loss camp California opens June 23 and runs for 8 weeks. Start dates are available every Sunday throughout the 8 week weight loss camp season. For additional information about enrolling in BalanceME's weight loss camp California for children and teens or for additional information about Jeremy Whitworth or the rest of the expert staff, please visit http://www.BalanceME.com or contact John Gordon at (800) 975-0435.
###
BalanceME designed the ME Plan to Motivate & Educate on what medical research shows works for sustainable fitness, weight loss, and health success. Founded by professionals and guided by experts who have led some of the largest behavioral health, mental health, and treatment programs in the country, BalanceME is working to become the leader with a focus on improving an individual's overall health. BalanceME developed the BalanceME Health Score© to rate a person's overall medical, emotional, and fitness health status as well as show a person's progress towards health norms. BalanceME operates weight loss summer camps, local programs, and fitness programs for adults. For additional information please visit http://www.BalanceME.com or call (800) 975-0435.