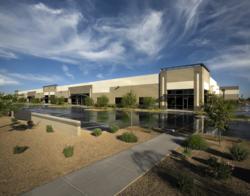 "We are particularly proud of this development because of its positive economic and environmental accomplishments," said David Krumwiede, Executive Vice President, Lincoln Property Desert West Region.
Phoenix, Arizona (PRWEB) May 17, 2013
The Desert West Region office of Lincoln Property Company, sold the award-winning Broadway 101 Commerce Park located in Mesa, Arizona.
The successful in-fill project was purchased by Industrial Income Trust (IIT) for a $77,002,000 total purchase price, or $95.25 per square foot. IIT is a non-traded real estate investment trust (REIT) that acquires and operates high-quality industrial buildings nationwide.
The sale of the 52-acre, 11 building, 808,000 square foot project is the largest industrial sale in Arizona year-to-date in terms of purchase price, number of buildings and total square footage. The high profile green project was developed by Lincoln Property Company.
"We are particularly proud of this development because of its positive economic and environmental accomplishments," said David Krumwiede, Executive Vice President, Lincoln Property Desert West Region. "The development brought the community fresh commercial space where the existing structures were no longer an employment center and had become a neighborhood eyesore."
The project site was home to a Motorola semiconductor plant for more than 30 years before it closed in early 2000's. The site opened in 1969 and employed approximately 2,600 people. LPC demolished the 1.3 million square foot plant in 2005 and worked to reclaim reusable materials at the site.
To dramatically reduce the amount of demolished materials that typically end up in a landfill, all metals were recycled, and the concrete structures were crushed and the materials were mixed with regular ground soils and compacted to fill in basements, etc. It is estimated that only 3% of the demolished materials by weight were taken to the landfill.
The development was also able to reuse and existing elevator shaft and basement as a storm water retention basin. Storm water is captured, retained on-site and pumped off-site for use by the City of Mesa.
Lincoln Property Company was awarded the "Spec Industrial Development of the Year - Greater than 250,000 Square Feet" for Broadway 101 Commerce Park by the Arizona Chapter of the National Association of Industrial and Office Properties (NAIOP).
Broadway 101 Commerce Park, which features manufacturing, warehouse/distribution and office space, is located at the Northwest corner of Broadway and Dobson Roads in Mesa, just Southeast of the Loop 101 / 202 freeway interchange. The project was designed by Butler Design Group (BDG) and built by hardison/downey construction, inc.
"Lincoln Property's development team was able to reclaim and reuse a substantial amount of the demolished materials to keep them out of the landfill," continued Krumwiede. "And the property currently serves as a vibrant center for employment with capacity for approximately 35 tenants and 1500 employees."
Some of the project's tenants include Boeing/Aviall, Inc., NAPA Auto Parts, PODS, Siemens Water Technologies, World Wide Technology, Inc., Ulthera, Inc., Accu-Tech, Dragonfire Racing and PCT International. Lincoln Property Company will continue to manage the property under the new ownership.
"LPC is pleased to continue as property manager at Broadway 101. We manage for the most prestigious clients such as IIT who value the service of excellence that we deliver as owners and as third party managers," said Alisa Timm, CPM, Director of Management Services, Lincoln Property Company. "LPC manages approximately 6 million square feet of Class A property in the Phoenix market and over 130 million square feet throughout our 200 offices nationwide."
The brokers involved in the transaction were Tom Powers, Bob Buckley, Steve Lindley, Tracy Cartledge, Mike Haenel, Andy Markham and Marc Tuite of Cassidy Turley.
Lincoln Property Company is actively seeking development and acquisition opportunities throughout the Valley. For more information, call Amr Ceran, Vice President, Lincoln Property at (602) 912-8879.
LINCOLN PROPERTY COMPANY
Lincoln Property Company ("Lincoln") is an international full service real estate firm offering real estate development, design / construction management, leasing, property management/ receivership / asset management services. Founded in 1965, Lincoln currently has approximately 6,200 employees and maintains a presence in more than 200 municipalities in the United States and 3 countries throughout Europe.
Lincoln's Desert West Region, which includes Arizona, Nevada, Utah and New Mexico, is based in Phoenix, Arizona and has been operating since 2001. Lincoln has developed 2.7 million square feet, acquired 3.7 million square feet and manages approximately 6 million square feet of commercial space.
Lincoln's notable developments and investments include the BOMA TOBY Award LEED Platinum Certified Arizona Game and Fish Department Headquarters, Paradise Village Office Park, Broadway 101 Commerce Park and Camelback Square. Lincoln was recently ranked 4th in the Arizona Republic Who's Who in Business. The Phoenix Business Journal Book of Lists ranks LPC consistently in the top 10 Commercial Real Estate firms for both Development and Property Management. Lincoln Property Company is located at 3131 E. Camelback Road, Suite 318 in Phoenix, Arizona. For more information, visit http://www.lpcphx.com.