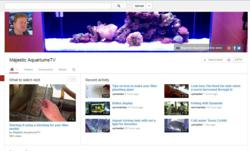 We have now had over 1 million views on our Youtube channel!
Sydney, Australia (PRWEB) May 17, 2013
The Majestic Aquariums Youtube channel features thousands of instructional and aquarium related videos, with new videos being added almost daily. Paul Talbot, owner of Majestic Aquariums shares his knowledge with the world in thousands of short videos on many topics from aquarium species and diseases, electrical parts, helpful hints and product reviews to instructional installation videos.
Paul has answered almost all commonly asked aquarium questions in his videos, resulting in a rapidly increasing viewing audience and suite of Youtube channel subscribers. The Youtube channel called 'Majestic AquariumsTV' has now had over one million viewers and continues to become increasingly popular.