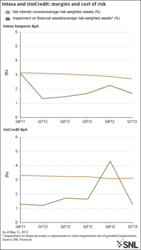 London, UK (PRWEB) May 20, 2013
The first-quarter struggles of Italy's two largest banks look set to continue along with the rest of the sector.
SNL figures for UniCredit and Intesa show that both of Italy's leading banks have been suffering from low margins, profitability and returns for some time. First-quarter ROEs of 2.54% for Intesa Sanpaolo and 3.21% at UniCredit were pitiful. Neither bank is earning its cost of capital, neither has done so for a while and neither looks likely to do so in the immediate future.
Asset quality is a major issue for both banks, as SNL graphs demonstrate. The margin between net interest income and impairments as a percentage of risk-weighted assets is volatile and narrow. UniCredit's position looks somewhat stronger, almost certainly because of its strength outside of Italy.
Read the full report: http://www.snl.com/InteractiveX/Article.aspx?cdid=A-17734310-12851
SNL Financial provides detailed financial data on listed and non-listed banks across Europe. If you're looking for any specific bank information to support one of your current articles, please send me an email. For more details on the data we provide, please visit: http://www.SNL.com/EuroFinancials.