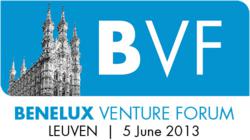 Brussels, Belgium (PRWEB UK) 17 May 2013
On June 6th, the 13th edition of the Benelux Venture Forum (http://www.e-unlimited.com/bvf) will take place at Provinciehuis in Leuven, Belgium. The Benelux Venture Forum (BVF) revolves around taking Benelux companies global and will showcase 45 of the best entrepreneurs in web, mobile, healthcare, biotech, renewables and materials. The Forum is strongly focused on providing match-making opportunities for these companies and the 50+ international venture capital and corporate investors attending annually.
European Investment Fund, Total Energy Ventures, BASF, DSM Venturing, Iris Capital Management, Gimv and Newion Investments Management are just a few names on our impressive list of attending investors.
Adding to the programme, several panels and speakers will evaluate key topics for growing enterprises such as 'How to attract international venture capital', 'How to develop your company to compete on a global scale' and considers several highly innovative business models.
Interested to join? Sign up before May 23 to receive a 30% discount on your ticket
Special attention is also given to alternative sources of financing; bringing in speakers to provide perspective on attracting funding for your business from large corporations, business angels and other private investors as well as government supported loans and guarantees.
The Benelux Venture Forum is an initiative of Europe Unlimited and is supported by Agentschap Ondernemen, Flanders in Action (VIA), imec, Capricorn Venture Partners, imec, KU Leuven LRD, Leuven.Inc, iMinds and Flanders Investment & Trade.
The Benelux Venture 45
Utilizing a great network of partners such as iMinds, Capricorn Venture Partners, KU Leuven LRD & imec, who nominated startup teams and growing companies from their network, the organizers have encouraged more than a hundred companies to apply for a chance to present at the 2013 Benelux Venture Forum. With each of the 100+ companies having had their profiles reviewed; the BVF selection team took effort to identify the 45 to come pitch their business proposals at the Forum. All pitching CEOs will be invited to a coaching session to prepare them for a pitch session to a live investor panel on June 6th.
Go to http://www.e-unlimited.com/bvf to view the companies selected for the Forum.
About the Benelux Venture Forum
Now in its 13th year, the Benelux Venture Forum has championed entrepreneurs and brought significant investment into the region; leveraging a Europe-wide community of investors. Almost 200 participants are confirmed for this great networking and business development event with high quality presentations from the most investor-ready high tech companies in the Benelux.
10 award winners of the Benelux Venture 45 will qualify to continue along the European Venture contest; a pan-European contest of venture events that gathers the best of each edition to join the European Venture Summit, Europe's largest venture capital match-making event, taking place in December 2013.
William Stevens, CEO of Europe Unlimited commented "Entrepreneurship is alive and well in Europe – times may be tough right now but it is the ideas of today that fuel the businesses of tomorrow. Some of the world's leading companies were born during challenging times and they grew strong as a direct result."
About the organizer
Founded in Brussels in 1998, privately-owned Europe Unlimited S.A. provides event and online matching platforms between emerging innovative companies and investors across Europe and its regions, sectors and stages, notably bought together in the European Venture Contest (in its 9th edition). Our clients are governments, public-private clusters, corporate and financial investors as well as advisory firms. http://www.e-unlimited.com