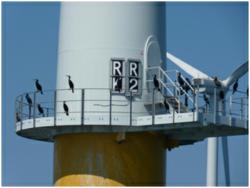 (PRWEB UK) 17 May 2013
International renewable energy consultancy Natural Power has published a report on the marine environment at Robin Rigg Offshore Wind Farm, on behalf of owner E.ON. This report is one of the operational year commitments under planning required for by the Marine Environment Monitoring Plan (MEMP). This approach to key environmental issues is similar to those used by the Danish, Belgian and German Environmental Monitoring Programmes in Europe.
Robin Rigg is the first commercial offshore wind farm in Scottish waters, comprised of 60 Vestas V90-3MW turbines. Prior to construction of the wind farm, a Marine Environment Monitoring Programme (MEMP) was agreed and developed in conjunction with the Robin Rigg Management Group (RRMG). The remit of the MEMP was to monitor key uncertainties and record any changes to the physical and ecological environment that may be caused by the construction and operation of the wind farm.
Natural Power has over a number of years utilised their experience and expertise to provide robust industry leading analysis. The methods and approaches for the long-term dataset collected as part of the MEMP from baseline, pre-construction, during the construction and during operational year one to assess the potential effects of the wind farm within the Solway Firth. Consistent and comprehensive data has been gathered on the diversity, abundance and distribution of birds, marine mammals, fish and shellfish that utilise and function in and around the offshore wind farm site and cable route.
Dr Jane Lancaster, providing the report concludes that there is little significant evidence that the construction and operation of the Robin Rigg wind farm has had any significant or permanent impact upon the marine life in the immediate or surrounding area. During the course of the surveys 38 species of fish and over 150 types of invertebrate have been found. Whilst in and around the site and cable route, 38 species of bird and 2 species of marine mammal have been observed. Site observations have also shown an increase in the distribution and utilisation of areas of the Solway Firth by cormorants and gull species in the area as well as potential displacement effects during construction for auk species (guillemot and razorbill).
The full report is available to download on the Marine Scotland website at http://www.scotland.gov.uk/Topics/marine/Licensing/marine/scoping/Robin-Rigg
Richard Walls, Director of Ecology & Hydrology at Natural Power presented an abstract on 'Best practice ecological analysis methods for UK offshore wind farms: Robin Rigg, Solway, Scotland and the integrated approach of Marine Environmental Monitoring Programs (MEMP)' at the CWEA2013 (Conference on Wind power and Environmental Impacts) in February 2013 in Stockholm.
A copy of the abstract can be found on Page 105 - http://www.naturvardsverket.se/Documents/publikationer6400/978-91-620-6546-1.pdf
The Natural Power Ecology & Hydrology department has considerable experience advising on all aspects of ecological and hydrological projects, including all baseline surveying requirements, data collation, statistical & modelling expertise, environmental impact assessments, HRA, mitigation and monitoring. The company's long history in offshore wind and expertise is in the provision of advice and surveys to all phases of wind farm developments (feasibility, EIA, post-consent, pre-construction, construction and operation/OFTO). In the past year the Ecology & Hydrology department alone have worked on over 15 offshore wind farms and 60 onshore wind projects across the UK.
For more information sayhello(at)naturalpower(dot)com or visit http://www.naturalpower.com
Contact details:
Sarah Brady
Events & PR Officer
Natural Power
sayhello(at)naturalpower(dot)com
Notes for Editors:
Natural Power is a leading independent renewable energy consultancy and products provider. The company offer proactive and integrated consultancy, management & due diligence services, backed by an innovative product range, across the onshore wind, offshore wind, wave, tidal, biomass, pv and hydro sectors, whilst maintaining a strong outlook on other new and emerging renewable energy sectors. Established in the mid 1990s Natural Power has been at the heart of many groundbreaking projects, products and portfolios for more than two decades, assisting project developers, investors, manufacturers, research houses and other consulting companies. With its iconic Scottish headquarters, The Green House, Natural Power has expanded internationally and now employs over 270 renewable energy experts across Europe and North America with further representation through South American consultancy Latwind Energías Renovables and Turkish renewables consultancy re-consult. Providing Planning & Development, Ecology & Hydrology, Technical, Construction & Geotechnical, Asset Management and Due Diligence services, Natural Power is uniquely a full lifecycle consultancy – from feasibility to finance to repowering, and every project phase in between. Natural Power has consistently invested in product development and technical research in order to progress certain key areas within the industry such as the operational management of wind farms, the design and assessment of wind farms in complex flow and the use of remote sensing for wind measurement.
From award winning consultancy and management services, through a string of technology world-firsts, Natural Power has a successful track record and the breadth of services and deep-rooted experience that provides a wealth of added value for our diverse client base.
Natural Power – the international turn to experts in renewable energy