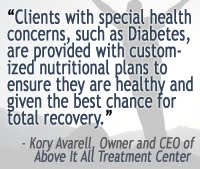 Lake Arrowhead, CA (PRWEB) May 17, 2013
Fighting addiction is hard enough for a person without extra health complications, but for diabetics, treatment is more difficult and complicated. Drug and alcohol rehab for diabetics involves additional medical care to monitor blood sugar levels and administer insulin when necessary. To care for an addicted diabetic properly, a drug rehab for diabetics needs to have expert staff that understands the unique dietary and nutritional needs of the diabetic, and has experience caring for them. Diabetes complicates recovery and if left untreated, can weaken overall health. Without proper care, diabetes can increase risk of stroke and heart disease, and create blood circulation problems that will affect the physical and mental well-being of the patient. In an alcohol rehab for diabetics professional, experienced care is even more important, as this addiction can wreak havoc on already weakened vital organs.
Above it All addiction treatment for diabetics understands the special needs of type I diabetics, whose bodies do not produce insulin, and type II diabetics, in which the body does not produce enough insulin and glucose can build up in the blood. Both groups are at higher risk for complications during recovery and both need a program like the Above It All Inpatient Recovery Center. The inpatient treatment center at Above it All offers the best chance of success in recovery. Patients live in a welcoming residential facility with a comfortable atmosphere where they can detox and go through rehab in the sunny and tranquil California Mountains. Experienced staff overseen by medical professionals monitor diabetic patients and each day of treatment has a set schedule. In-patient days consist of daily reflections, group counseling sessions, exercise, individual counseling and other activities.
The Above It All Treatment Center helps diabetics who are type I and II by paying special attention to their health needs, but also with the proven, evidence-based 12-step recovery program. This program has a high success rate and is supervised by professional drug and alcohol rehabilitation counselors. Above it All works with family and patients to facilitate the success of the addict in this program. The professional staff is always there to supervise your loved one's difficult path of recovery and guide them through treatment. With diabetes, you can't be too careful. Studies have shown that Type I and type II diabetic addicts have higher rates of complications, have more frequent hospital visits and have a higher mortality rate than non-addict diabetics.
Above It All Treatment Center for diabetics is a fully licensed and accredited facility located in Lake Arrowhead in the San Bernadino Mountains of California. Only 90 minutes from Los Angeles, the facility is surrounded by stunning, calming beauty and fresh air. The treatment center accepts many forms of insurance, so you or your loved one can afford to succeed on the path to recovery. For more information, call the number below, or visit the Above it All website.
Contact:
http://www.aboveitalltreatment.com
1-888-997-3006
Above it All Treatment Center, 27482 North Bay Road, Lake Arrowhead, CA 92352