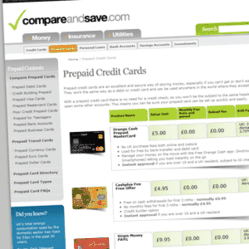 We've always been able to offer customers the best prepaid credit cards and many are very loyal to us as a result
(PRWEB UK) 18 May 2013
"It's about responding to what our customers are asking for," comments Mark Scott, Managing Director of Leading UK finance comparison website, compareandsave.com, on the relaunch of the website's popular UK prepaid credit card section, "but it's also about predicting what people will want or need in the future, so these changes should be the first of many improvements people will see over the coming months."
The website, a leader in the UK financial comparison space for over 5 years, relaunched it popular prepaid credit card section yesterday with a number of big changes instantly visible. It now boasts over 10 different prepaid card categories to help UK customers quickly find what they are looking for, together with a greatly expanded FAQs and Glossary.
Mr Scott, continued:
"We've always been able to offer customers the best prepaid credit cards and many are very loyal to us as a result.
These changes are about helping customers quickly find the products that they are looking for by particular attribute, but they're also about educating people and showing them that there's probably more to many prepaid products than they know.
For instance, how many people struggling to get credit in the current climate know that they could be helping to rebuild their credit score with a credit building prepaid card – or that people starting a business could use a business prepaid card product for almost all of their banking needs – rather than an expensive business bank account?"
_______________
compareandsave.com is one of the UK's leading personal finance comparison websites. Based in Colchester, Essex, compareandsave.com has been helping UK consumers get a better deal on credit cards, saving, loans and more for over five years.