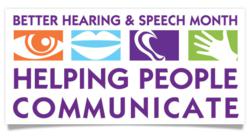 Huntersville, NC (PRWEB) May 21, 2013
ProvidaStaff, LLC, a leader in providing comprehensive healthcare therapy services in education and medical settings nationwide, has many resources to help celebrate this throughout the rest of May. They will be informing the public on resources and activities through their social media outlets.
Throughout the month of May, the American Speech-Language-Hearing Association has declared Better Hearing and Speech Month, helping people communicate though awareness of speech and language disorders that affect 14 million Americans, in recognition of Better Speech and Hearing Month.
Each year, since 1927, this annual event provides an opportunity to raise public awareness, knowledge and understanding of the various communication impairments. It also promotes treatment that can improve the lives of those who experience difficulty with speaking, understanding, or hearing.
Speech and language disorders can take on many forms and can limit social adjustment, academic achievement, and career advancement. An individual may be born with a speech or language disorder, or it may be caused by accidental injury or illness. According to the National Institute of Deafness and Other Communication Disorders approximately 43 million people in the United States suffer from a speech, language, or hearing impairment. About 28 million suffer from a hearing loss and approximately 10 percent of children have moderate to severe communication impairments, including speech production/articulation, stuttering, and language-learning difficulties.
Fortunately, the majority of people with speech and language disabilities can be aided. Even if the disability cannot be eliminated, Speech-Language Pathologists (SLPs) can teach people with speech and language disabilities strategies to help them cope and live more independently. SLPs are the professionals who treat various aspects of all types of speech, language, voice, stuttering, swallowing, hearing, and related disorders. They hold at least a master's degree and are certified by the American Speech-Language-Hearing Association and are also are licensed by the state. Their settings include schools, hospitals, private practices, clinics, and nursing homes.
The American Speech-Language-Hearing Association is the national professional, scientific and credentialing association for more than 145,000 audiologists, speech-language pathologists and speech, language, and hearing scientists.