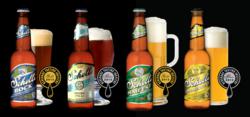 New Ulm, MN (PRWEB) May 17, 2013
The August Schell Brewing Co., the second-oldest family-owned brewery in the country, brewer of Schell's and Grain Belt, received two more medals from the Beverage Tasting Institute. In March Schell's was awarded a gold medal for its Bock beer and a silver for its Barleywine and have now been awarded another of each for its Maifest and Zommerfest varieties.
The Beverage Tasting Institute (BTI) was founded in 1981. All of the panelists are professional guest tasters who are retailers, restaurateurs or prominent writers. The judging ratings range from 96 to 100 for superlative all the way down to 80 and below for not recommended.
Schell's Maifest scored a 90 in the Maibock category, earning the title "Exceptional." It is a seasonal specialty beer offered by Schell's in the spring months. It is brewed with a blend of three different specialty malts and the finest imported and domestic hops, in the tradition of Munich's Hofbrauhaus Maibock (My-Bock) beer. The Beverage Tasting Institute describes it as being a "brilliant amber color with aromas of grilled pineapple, honeycomb, papaya yogurt and pepper with a round, fruity-yet-dry medium-to-full body and a long, tangy and warming pepper bread, arugula, and roasted nut driven finish." They stated that it is "delicious and a really nails the style."
Rating: 90 points (Exceptional)
Medal: Gold
Alcohol By Volume: 6.2%
Category: Maibock, Lager
BTI Tasting Location: Chicago Tasting Room
BTI Tasting Date: May-01-2013
Schell's Zommerfest earned an 85 in the Kolsch Ale category, receiving a "Highly Recommended" rating from the panel of judges. It was introduced by Schell's on Memorial Weekend in 1998 and is only available in the summer. Zommerfest is brewed in a 'Kölsch' style, which originates from Cologne, Germany. The Beverage Tasting Institute describes it as being a "rich old gold color with aromas of Denver omelet and butter toast with a dryish, minutely sour medium body and a tangy, Greek yogurt, melon rind, turnip, and lemon pepper-like hop finish."
Rating: 85 points (Highly Recommended)
Medal: Silver
Alcohol By Volume: 4.8%
Category: Kolsch, Ale
BTI Tasting Location: Chicago Tasting Room
BTI Tasting Date: May-01-2013
About August Schell Brewing Company:
August Schell Brewing Company, located in New Ulm, MN, sits atop the same site it was built on in 1860. With its sprawling grounds, beautiful gardens, Schell Mansion, and deer park, the brewery is a tourist destination for any beer lover. Schell's boasts a proud heritage of 153 years of continuous family ownership and specializes in craft beers. In addition to the line of specialty beers, Schell's also produces Grain Belt Premium, Grain Belt Premium Light and Grain Belt Nordeast. For more information on Schell's Brewery, tour schedules or any of their 17 quality beers, go to http://www.schellsbrewery.com.