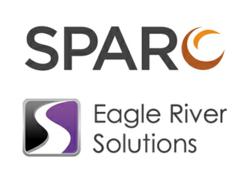 SPARC has put tremendous effort into creating an innovative environment that allows for best in breed products to be developed.
Charleston, SC (PRWEB) May 21, 2013
SPARC announced today that it has partnered with Eagle River Solutions to develop Point of Care™, a revolutionary medical application that will enable doctors to provide better patient care.
Eagle River is passionate about creating a system through which doctors can deliver better patient care and focus on the most cost-effective treatment methods. "Point of Care makes doctors more efficient and effective when they are with a patient, whether that's in an exam room, emergency department, or surgery," said Jim Silliman, CEO of Eagle River Solutions.
"In my experience, great people make great products. SPARC has put tremendous effort into creating an innovative environment that allows for best in breed products to be developed," said Silliman. "The team's commitment and service level during the project shows the positive impact a great culture can have."
SPARC will utilize a range of technologies to help the team at Eagle River deliver this project, including Amazon Cloud Services, Java, and PHP. The broad range of skillsets amongst SPARC team members makes them well suited to maximize the capabilities of each technology used.
SPARC has emerged as a leading provider of custom solutions for commercial partners like Eagle River. SPARC's depth of talent allows the team to cater to organizations looking to leverage powerful software applications as essential business tools.
"We build software for our customers with one goal in mind: their mission. Our development work must allow our customers to grow their business and reach their organization-wide goals. When we build with that in mind, the result is sleek, powerful software that revolutionizes business processes," said Eric Bowman, CEO of SPARC.
SPARC is working with Eagle River to create the best delivery tool for doctors, patients, and health care systems that focuses on evidenced-based, protocol driven care. Point of CareTM delivers all manner of information to doctors when they are with patients so they spend more time focused on the patient and the treatment path. SPARC will also assist in Eagle River's development of the most up-to-date conversion tool for the International Classification of Diseases to allow streamlined patient care.
About Eagle River Solutions
Eagle River Solutions is a software development company that provides innovative technology for the medical industry. The core focus of Eagle River Solutions software products is to help healthcare professionals save time and money while improving patient care. Learn more at eagleriversolutions.com.
About SPARC
SPARC is a software product development company creating engaging, forward-thinking technology while putting customers, employees, partners, and the community first. With offices in Charleston, South Carolina and Washington, D.C., SPARC provides software development services for the government and commercial sectors, and develops commercial software products for the executive leadership, human resources, green energy, big data analytics, and mobile markets. Come by for a tour and see SPARC's award-winning culture for yourself, or learn more at sparcedge.com.