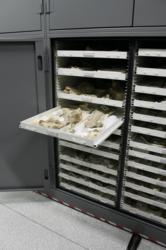 Our team was proud to partner with the Western Science Center.
Fort Atkinson, WI (PRWEB) May 19, 2013
Spacesaver Corporation, an industry leader in museum, archival and preservation storage will be exhibiting at the American Alliance of Museums (AAM) 2013 Annual Meeting & Museum Expo™ held in Baltimore, May 19–22. Attendees who stop by booth #619 can learn about Spacesaver's expansive museum product offerings, customized solutions, and customer case studies.
Spacesaver's collection-care storage solutions are featured in prominent museums and institutions all around the globe, including the Field Museum of Natural History (Chicago, IL), the National Museum of Play, (Rochester, NY), and most recently the Western Science Center (Hemet, CA) which was one of the first LEED Platinum museums in the country.
Installation of an Eclipse Powered System®, outfitted with industrial shelving and Delta Design, Ltd. museum cabinets, was chosen for the current artifact collection. The flexibility of the powered system helped the Western Science Center organize the millions of fossils and artifacts in their possession. Motion-activated lighting was used within the mobile system to help conserve energy and reduce operational costs when the system was not in use.
"Our team was proud to partner with the Western Science Center, and we were able to provide a storage solution that could house and preserve their collection, while still contributing to their sustainable design goals," said Mark Haubenschild, Vice President, Spacesaver Corporation.
Stop by Booth #619 at AAM and learn how Spacesaver can find a solution for your museum storage and preservation challenges.
About Spacesaver Corporation
Spacesaver Corporation is the industry leader when it comes to High-Density Mobile Storage; secure storage, locker storage, cantilever shelving, and other shelving solutions. Whether you're in need of library shelving, office storage solutions, military storage, museum storage, evidence storage, sterile healthcare and pharmacy storage, or mobilized industrial storage solutions, Spacesaver has a nationwide network of local authorized representatives, The Spacesaver Group, who sell and support their industry-leading, innovative storage solutions. Spacesaver's commitment to sustainable product design began with the foundation of the business in 1972 by Theodore W. Batterman. Increases in land, building and energy costs, enabled him to create a new industry with high-density mobile storage solutions. Celebrating 40 years of success in 2012, Spacesaver continues to produce storage and shelving solutions that are designed and manufactured to save space, time and resources for our customers while increasing efficiency, cost-savings and security. Spacesaver is a division of KI located in Green Bay, Wisconsin.