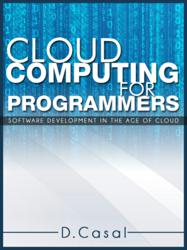 The future is already here – it's just not evenly distributed. William Gibson
Dublin, Ireland (PRWEB) May 22, 2013
Daniele Casal has worked as a software engineer since 2002 and in the recent years has developed a strong interest in Cloud Computing. He attended courses and certification programmes and carried out comprehensive research on the subject. With Cloud Computing for Programmers, he intends to share the results of his study with other IT workers who want to know how their jobs will be impacted by the advent of the Cloud.
Software developers must always keep an eye on the latest trends to remain competitive in ever-shifting job markets. Technology and tools are constantly evolving as well as the way programmers work.
Daniele Casal's e-book on Cloud Computing for Programmers is an overview of the concepts of Cloud Computing from a programmer's point of view. Here are some of the main points the book will address, grouped by area:

Brief history and definition of Cloud Computing, no-frills description of the most popular cloud delivery models: IaaS (Infrastructure-as-a-Service), Paas (Platform-as-a-Service), SaaS (Software-as-a-service), Cloud deployment models (Public, Private, Community and Hybrid) and characteristics of a cloud service
Differences between "on premise" and "cloud-based" software development. New tools the Cloud offers in order to streamline the software development cycle like cloud-based IDEs (Integrated Development Environments), Version Control/Source Code Management, Continuous Integration, Bug Tracking, Analytics, Databases, Testing, Collaboration and more. New programming languages, libraries and frameworks that are emerging to address the complexity the Cloud comes with (big data, multi-tenancy, parallelism, multi-core distributed architectures, asynchronous inter-system communication)
Cloud Computing and mobile app development
Soap and Restful Web Services, the two main types of APIs that developers should become familiar with in order to implement interoperability between cloud-based systems and the new form of NoSql storage that has the potential to subvert the old relational model (RDBMS)
The challenges of programming for the Cloud and the new jobs and roles that are gaining momentum in the IT space with the rise of Cloud Computing
The purpose of this is not to stand as an all-inclusive guide to cloud computing, rather to point out some key areas of focus in order to remain competitive and marketable, as a software developer, in the Cloud age.