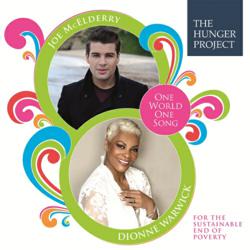 London/New York (PRWEB) May 18, 2013
Music Royalty doesn't get much greater than the legend that is Dionne Warwick, the third most charted female artist of all time (equal with Madonna). Dionne, together with the stunningly successful young British artist Joe McElderry, is stepping up for the sustainable end of Hunger this May 2013 with the launch of a new first-of-a-kind duet, entitled 'One World One Song'.
This spectacular anthem is launched on 27th of May as a global digital release with pre-orders available from 17th of May. In addition to the Single itself, an instrumental/karaoke 'You Sing' version is being launched in tandem (with sheet music) - for aspirational singers, bands, choirs, youth and faith groups as well as arts' societies to perform and share the world over.
'One World One Song' was written from the campaigning heart of Chronic Persistent Hunger, co-created by The Hunger Project UK's Country Director, Tim Holder in partnership with legendary songwriter, Tony Hatch ('Neighbours', Petula Clark's 'Downtown' and 'Crossroads'). The Single's production team includes award-winning producer Toby Alington (Adèle and Emeli Sandé) and Orchestral Conductor for The 2012 Olympics' Closing Ceremony, Steve Sidwell.
Also performing on this epic production are the voices of London Community Gospel Choir, the full orchestra of Southbank Sinfonia and the 60-strong World Hunger Day Youth Choir.
According to Dionne Warwick:
"'One World One Song' is a wonderful and uplifting anthem, written especially for The Hunger Project, much like 'We Are The World' and 'That's What Friends Are For'. Music has a very powerful ability to engage people and we hope you will enjoy listening to this song, but also hope that it will inspire you to join us in the fight to end hunger and poverty.
"The 'One World One Song' Single is being launched on 27th May, one day before World Hunger Day 2013 when a series of Unplugged Concerts are being hosted in London. I am urging people around the world to think about the song's lyrics and act upon the emotions they stir. My mantra is 'if you can think it, you can do it," added Dionne.
According to Joe McElderry:
"I loved this song the moment I heard it. It has a simple message but is very strong and moving to listen to and perform. 'One World One Song' is very special to all of us and we really hope it will encourage many more people to take action and support The Hunger Project."
According to Tim Holder, Country Director for The Hunger Project UK:-
"'One World One Song' is a totally new and unique take on a charity Single. Firstly, the Single is not being launched as direct emergency response to fire, famine or flood. If we look at the statistics, out of the total number of men, women and children living with Chronic Persistent Hunger around the globe, 10 per cent are currently in need of emergency aid. The other 90 per cent are living in remote communities experiencing these unfathomable realities on a daily basis. The latter statistic relates to the partner communities in Africa, South Asia and Latin America that we are proactively fundraising for via revenues derived from 'One World One Song' sales, World Hunger Day Unplugged and all associated activities.
"In addition, 'One World One Song' is supported by British teachers introducing a cross-curricular schools project into both state and private schools with a one-stop-shop toolkit, currently designed for Year Eight pupils. The key opinion formers and leaders of tomorrow can be better informed and committed to helping the future of other nations. A call for cohesive change is achievable and within our lifetime," added Tim.
The date for the Nation to unite for the ending of Chronic Persistent Hunger is World Hunger Day 2013 (28.05.13) when Joe McElderry will be singing his own version of 'One World One Song' live, at the iconic PizzaExpress Jazz Club in London, which has played host to great artists including Ella Fitzgerald and Amy Winehouse.
The 'One World One Song' single will be available to buy as a pre-launch sale from 17th May 2013, for global digital release on 27th May 2013. All proceeds will be donated to The Hunger Project UK.
In addition to the launch of 'One World One Song' all artists have kindly volunteered their time and beautiful voices to the Single itself and also a series of World Hunger Day Unplugged Concerts, hosted by PizzaExpress Jazz Club in London.
WORLD HUNGER DAY 2013 – TUESDAY 28TH MAY 2013 - 18:30 AND 21:30
Joe McElderry & Friends hosted by Jumoké Fashola
Tickets £50 from jazz(at)pizzaexpress(dot)com 0845 602 7017
ONE WORLD ONE SONG – SUNG AT EACH OF SEVEN UNPLUGGED CONCERTS
The single 'One World One Song', featuring Dionne Warwick, Joe McElderry & Friends, will be available for pre-order from the 17th May 2013 globally. A backing track will also be available to buy/download as well as the single itself for both communities and individuals alike. The Hunger Project UK is encouraging everyone to sing and share the meaning of 'One World One Song' by way of 'You Sing'. Over the coming days all social media channels will be live in relation to the single so that you can share and celebrate 'One World One Song' via World Hunger Day youtube channel, Twitter, Facebook etc.
Each artist (listed below) will be invited to sing their own interpretation of the 'One World One Song' single during their Unplugged sets between 26th and 28th May 2013 inclusive, as well as their greatest songs old and new. 'One World One Song' better explains the determination of those endeavouring to end their own poverty and hunger through entrepreneurship and help from The Hunger Project UK.
For more information about 'One World One Song', World Hunger Day Unplugged and the launch of this formidable charity single, please visit http://www.worldhungerday.org
Follow us @OneWorldOneSong on Twitter and @WorldHungerDay
Like our Facebook page TheHungerProjectUK
http://www.youtube.com/user/WorldHungerDay
Text LOVE 28 £3/£5 or £10 to 70070 to create opportunities for everyone to end their own hunger and poverty. The Hunger Project registered charity number 326688.
**MEDIA PHOTO CALLS WITH JOE ON 28TH MAY 2013 WILL BE ANNOUNCED IN DUE COURSE. REVIEWER TICKETS WILL NOT BE AVAILABLE FOR MEDIA DUE TO LIMITED SEATING**
-ends-
For media information, interview opportunities, song lyrics, biographies and images, please contact:
Miranda Leslau
miranda leslau pr
07912 644993
miranda(at)mirandaleslau(dot)com
Editor's Notes:-
Other artists stepping up for Hunger at PizzaExpress Jazz Club include:

Andrew Roachford
Anthony Strong
Barb Jungr
Jumoké Fashola
London Community Gospel Choir
Mari Wilson
Omar
Randolph Matthews
Tammy Weis
Please visit http://www.worldhungerday.org for more information or jazz(at)pizzaexpress(dot)com 0845 602 7017
The Hunger Project – An Overview

The Hunger Project, founded back in 1977, is a global, non-profit, strategic organisation committed to the sustainable end of world Hunger
The Hunger Project and its affiliated Partner Countries have a worldwide staff of more than 300 people and work with over 375,000 volunteer leaders on the ground – all of whom are suffering from the effects of chronic and persistent hunger on a daily basis. Our Global Office is located in New York, NYC
870 million people the world over do not have enough to eat — more than the populations of USA and the European Union combined (Source: State of Food Security in the World 2012)
In Africa, South Asia and Latin America, The Hunger Project seeks to end Hunger and Poverty by empowering people to lead lives of self-reliance, meet their own basic needs and build better futures for their children
The Hunger Project operates in 11 Programme Countries, helping over 8,700 partner communities end their own Hunger: in Bangladesh, Benin, Burkina Faso, Ethiopia, Ghana, India, Malawi, Mexico, Mozambique, Senegal and Uganda. In Peru we partner with a local organisation, Chirapaq
To date, The Hunger Project's work empowering communities to end their own Hunger has directly impacted upon 35 million people – with a total annual budget of £10 million sterling
Over the last two years, The Hunger Project UK, with a team of just two full-time members of staff, together with an extended project team and volunteers, has raised hundreds of thousands of pounds for partner communities throughout the World from show-stopping musical events hosted by the legendary Dionne Warwick as well as community and Challenge/Sporting events
In the UK, we fundraise for our programmes in the developing world, together with increasing the profile of the organisation and raising the issues of Hunger, Poverty and Gender Equality
For more information about The Hunger Project UK please visit http://www.hungerproject.org.uk or http://www.worldhungerday.org