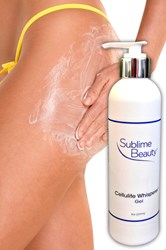 With a concentrated holistic plan, women can reduce their cellulite.
St. Petersburg, FL (PRWEB) May 25, 2013
The special 35% off discount continues on the new Cellulite Whisperer® products from Sublime Beauty®. The products include a number of clinically-tested ingredients that work to diminish cellulite, and many of the ingredients are in fact organic.
"Cellulite is tough to deal with and is dreaded by many women," says Kathy Heshelow, founder of Sublime Beauty®. "But with a concentrated holistic plan, women can diminish their cellulite." The plan includes two specific products, the Cellulite Whisperer® Gel and Lotion, that each work to dissolve toxins, rebuild irregular cell walls, and smooth dimpled skin. The plan also includes that women should cut back on fatty food, drink more water and exercise - all of this for better overall health long-term, says Heshelow.
Cellulite is toxic lymph that has accumulated and been stored in certain parts of the body. The fat cells are bunched up and squashed together, and cause the orange peel affect. It is important to break down the fatty toxins, get better circulation to the area, and work to rebuild the cell walls and skin.
"The Cellulite Whisperer® Gel has ingredients that actively work to break up the toxins," says Heshelow, "and we recommend massage of the Gel into the affected areas to assist the process." The Lotion includes ingredients that work to smooth, hydrate and rebuild smooth skin while continuing to break up toxins. The products should be applied twice daily (morning and evening.)
The sale will continue while supplies last and they are now going fast.