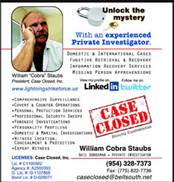 A Lie Has To Be Remembered, The Truth Can Never Be Forgotten. -- William "Cobra" Staubs
Tallahassee, FL (PRWEB) May 23, 2013
A Special Release From The Tallahassee O News
With over 10,000 arrests to his name, William "Cobra" Staubs is one of the most famous and successful bounty hunters in the world. Over the years, Cobra has traveled the country tracking down fugitives and helping other bounty hunters and private investigators learn the business.
The Tallahassee O spoke with Cobra, who was traveling throughout Florida, to talk about his high-profile cases of missing persons like the Haleigh Cummings and Caylee Anthony Cases.
Cobra is first to admit that he's a Hillbilly and says anyone has to be crazy to do this job. This Fort-Lauderdale based bail bonds man and private eye has nearly seen it all. He made headlines for secretly trailing Tony Masilotti, looking for a whiff of the corrupt land deals that eventually sent the former Palm Beach County commissioner to prison. He chased down a fugitive drug dealer who was making bombs and hiding out near military bases as featured on ABC News. And he nearly sabotaged his career by searching for Haleigh Cummings, a 5-year-old who disappeared from her North Florida trailer home some years ago.
One thing is for certain, If Cobra is after someone...he's going to catch them with Lightning Strike Force.
For more on Cobra The Bounty Hunter:
http://tallahasseeo.com/
____________________________________________________________________________________
Please Click Here To Read A Recent Tallahassee O Story With William "Cobra" Staubs
_________________________________________________________________________________________________________________
Related Story:
Bounty Hunter Cobra Says Misty Not At Home When Haleigh Cummings Disappeared (Examiner.Com)
_______________________________________________________________________________
Your Generous Donations Help The Tallahassee O To Protect Civil Rights And The First Amendment
The following is a statement from the publisher:
"We are asking our readers and supporters to please consider assisting Freedom of the Press efforts in the form of small donations — $5, $10, $20, $50 — or whatever you would like to donate in helping out for what we provide to the public for free. Other Newspapers or media outlets out there often charge and pay the publishing costs for articles with pay-walls from the public or hefty advertising sales. We don't have these as a privately funded group! We are solely reader and subscriber-based. It's out of personal voluntary donations that we are able to drive to meetings, search public records, cover events and protests and obtain the needed open records, documents, tapes, etc.
"PayPal is highly secure and most preferred. Other payment arrangements can be made through the TallahasseeO (at) Hotmail (dot) com. We unfortunately cannot function without our readers and supporters for support. Fuel, document costs, batteries, etc. for our cameras can get very expensive along with personal donations of our time to bring darkness to light within the corporate and government entities involved in public corruption and fraud to the taxpayers. There are many cover-ups especially in government that you need to know. The government is the cause of so much public corruption and fraud because of the major difficulty of exposing these matters with the consumption of people's time, costs and efforts. Many things need to be exposed. You have a Right To Know.
"Thank you very much for helping out with our cause. We really appreciate any donations that you are able to make to our non-profit organization. Please read all of our public corruption stories!"