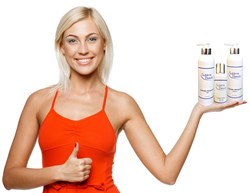 St. Petersburg, FL (PRWEB) May 23, 2013
Most women dread cellulite and swimsuit season. Cellulite rarely affects men due to several factors, including estrogen being a factor in the formation of cellulite. Cellulite is essentially toxins and fatty deposits stored and smashed together which create that dimpling look of the skin. "To diminish cellulite, one must take a multi-pronged action," says Kathy Heshelow, founder of Sublime Beauty®.
These multi-pronged actions include:
Specific products like Cellulite Whisperer® that work to break down the toxins and fats, work to rebuild cell walls, and help to rejuvenante skin. Both the Gel and Lotion contain ingredients that take all of these actions.
Massage of the affected area. Sublime Beauty® recommends massaging the Cellulite Whisperer ® Gel twice daily, followed by the Lotion. A special 5-in-1 Massager can be used, or the nubbed side of a skin brush.
Spot exercises of the affected areas will provide a boost of support to diminish cellulite.
Drink lots of water.
Diet: If not already doing so, eat more fruits and vegetables and less fatty foods. This is a long-term health solution but will help diminish cellulite.
Start Skin Brushing.
Skin Brushing clears toxins and dead cells away from the skin, our largest organ, and helps the skin do its job. Skin Brushing also boost circulation and lends a helping had to the lymphatic system to drain properly. Skin Brushing of cellulite-afflicted areas will help in maintenance by breaking at toxins, helping to move them along and encourage skin renewal. Read more about how to Skin Brush here.
Cellulite Whisperer® products are stocked full of high quality, tested ingredients, many of which are organic. The lotion includes richly hydrating ingredients like sweet almond oil, aloe, shea butter as well as antioxidants like Vitamin A, E and B5. The gel includes Dead Sea concentrates, arnica, grapeseed extract, gotu kola and much more. Both work in tandem to diminish cellulite.
Sublime Beauty® is excited to offer 35% off of the Cellulite Whisperer Gel and Lotion. No special code is needed.