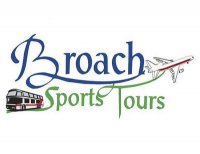 I love to talk sports, and I love to talk about all the great venues we are fortunate enough to expereince during our Broach Sports Tours.
Charlotte, N.C. (PRWEB) May 21, 2013
Tom Broach has been to every Major League Baseball stadium and pretty much every other great American sporting venue in his 21 years as president of Broach Sports Tours.
That experience allows Broach Sports Tours to excel with more than 50 sports travel packages over the course of the year, including 27 Major League Baseball tours, tennis travel packages to all four Grand Slam tournaments, racing travel packages to the Daytona 500 and other NASCAR events, plus the Masters and Ryder Cup.
That experience also makes Broach an expert of sorts for news media and fans looking for insider tips.
Broach Sports Tours has announced that Broach is available for media interviews worldwide or speaking engagements throughout the Carolinas throughout the summer. It's part of Broach Sports Tours' new "Tom Talks" promotional campaign that will be officially launched on May 22.
"I love to talk sports, and I love to talk about all the great venues we are fortunate enough to experience during our Broach Sports tours," Broach said. "It's a fascinating journey we go on each year. There are all the great, storied stadiums like Wrigley Field and Fenway Park that fans are familiar with, but there are also plenty of hidden gems that don't get the recognition they deserve."
Broach breaks down his favorite Major League stadiums into two categories – storied, historic stadiums and the relatively new state of the art stadiums. His favorite old stadiums are no surprise: Chicago's Wrigley Field and Boston's Fenway Park. His favorite new stadiums: Pittsburgh's PNC Park and San Francisco's AT&T Park.
Among his other observations:
Cleanest stadium: Los Angeles' Dodger Stadium.
Best stadium food: Arizona's Chase Field Ballpark.
Best pregame meal: Crown Diner just outside New York's Yankee Stadium.
Closest to the action: Pittsburgh's PNC Park, although old Tiger Stadium in Detroit is the all-time best..
Worst fans: Philadelphia, by a wide margin.
Best fans: Midwest fans, be it in St. Louis, Cincinnati and most of all Chicago.
"Cubs fans are the best because they go to the game not expecting to win, they just go to the park to have a good time," Broach said. "I also put Yankees fans higher up the list than some people think. Yankees fans have a reputation of not being friendly, but I find them to be very engaging."
Those are just some of the observations Broach is willing to share with media or church or civic groups.
Of course, Broach has also taken groups to virtually every NFL stadium and can talk at length about Green Bay's Lambeau Field or Dallas' Cowboys Stadium, or the tailgating in Kansas City, or stadiums with the best traffic flow (Miami and Charlotte). He loves New York's Madison Square Garden. And then, there's Augusta National and the Masters, which may be the most-hallowed grounds in all of sports.
Broach Sports Tours, located in Charlotte, N.C., has been a leader in the sports and group travel industry for the past 21 years. Among its 27 Major League Baseball tours this summer are several geared to and around the 2013 Major League All-Star Game in New York. Broach Sports Tours will also be taking groups to the French Open tennis and Wimbledon in the coming months, and is offering specials on its U.S. Open tennis packages later this summer. Broach is also offering current discounts on its 2014 Westminster Dog Show and 2014 Ryder Cup golf packages.
For more information, contact Melanie Smith at 1-800-849-6345 or visit http://www.broachsportstours.com.