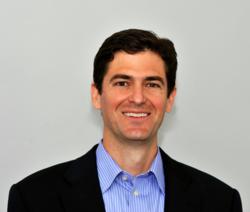 "I am honored and excited to lead Adelphic through its future growth." -- Michael Collins
Boston, Mass, (PRWEB) May 20, 2013
Adelphic, creator of a breakthrough platform for targeted mobile advertising, has appointed Michael Collins as Chief Executive Officer. Collins will assume his new role at Adelphic today, May 20, 2013.
Collins joins Adelphic from Joule, a mobile marketing agency that is part of WPP, where he was the global CEO. Collins joined WPP is 2007 to create and launch Joule, and subsequently grew it into a global leader in mobile marketing, with offices in North America, Europe, Australia, and Asia.
"Mobile advertising has never presented a greater opportunity for brands and publishers to grow their businesses," said Collins. "Adelphic's groundbreaking technology and its ability to create unprecedented scale and efficiency in mobile advertising will play a crucial role in capturing this opportunity. I am honored and excited to lead Adelphic through its future growth."
"Adelphic has an amazing technical and product team with a clear vision for what to build," said Rich Miner, Google Ventures General Partner and Adelphic board member. "As one of the most respected leaders in mobile advertising, Michael complements the team. His skills and expertise will be invaluable as Adelphic implements the platform for top publishers and advertisers.
"Changfeng Wang, and I are thrilled to welcome Michael to Adelphic. Michael has helped shape the mobile industry through his leadership at Joule and his work with the world's best brands. He brings strong corporate management experience and domain knowledge of the mobile ecosystem to our team. We are excited to work with Michael to accelerate the growth of our business," said Adelphic co-founder Jennifer Lum.
About Adelphic:
Adelphic Inc. is a leader in targeted mobile advertising. Adelphic's powerful Predictive Data PlatformTM and intelligent AudienceCubeTM deliver unparalleled results for advertisers and publishers. Founded in 2010 by mobile industry veterans from companies such as Apple, Quattro Wireless and Millennial Media. Adelphic is backed by Matrix Partners and Google Ventures.
To learn more about Adelphic and its plans to shape the future of mobile advertising, please visit http://www.adelphic.com or @AdelphicMobile.
Contact Information:
Jennifer Lum
Adelphic
info(at)adelphic(dot)com
781.583.1000