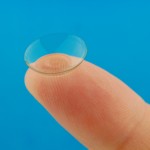 With contact lenses, users could even pick up fashionable new sunglasses without worrying about their prescription.
UK (PRWEB UK) 19 May 2013
Scrivens Opticians, an eye care specialist based all over the UK, has launched the Contact Lens Challenge, to encourage glasses wearers to sample the many benefit of contact lenses.
The company is so confident in the quality and variety of their contact lenses, that they are offering customers a free one hour trial of contact lenses, and a £100 voucher for a new pair of specs, if they can't find contact lenses to fit their prescription.
Despite their renown within the optical community, recent figures show that only 7.5% of adults in the UK use contact lenses, despite the fact that 68% require glasses.
Many attribute this to misinformation, and an irrational fear of the contact lens.
In a recent entry on the company blog, Jeet Saimbi, Professional Services Director at Scrivens Opticians, said: "It is typically a fear of the unknown which initially repels people from trying out contact lenses... the biggest worry regarding contact lens use is an anxiety of insertion and an aversion to putting something in the eye.
"This is unfortunate given that new lens designs and materials mean that contact lenses are now more comfortable than ever before and provide exceptional vision for those who require correction."
Modern contact lenses represent a safe and cost-effective alternative to glasses. They provide spectacle wearers with the freedom to take part in a variety of sports and activities, which is especially helpful during the summer. With contact lenses, users could even pick up fashionable new sunglasses without worrying about their prescription.
Thanks to the Contact Lens Challenge, at Scrivens Opticians, there has never been a better time to take the plunge and try contact lenses for the first time.
First, customers are invited to enjoy a free one hour trial, to assess their suitability for contact lenses. An experienced optician will fit each customer with a pair of contact lenses to suit their needs and prescription, and they can experience firsthand just how easy the modern contact lens is to wear.
The many customers who opt to proceed with their contact lenses will receive hafl price fitting, prescription and contact lens handling tuition. If suitable contact lenses can't be found, the customer will receive a £100 voucher towards a new pair of glasses; right there and then.
Contact lens wearers can also opt to join the Lensplan scheme; which offers exclusive deals and unlimited aftercare. Customers also receive HALF PRICE membership for the first three months.
For more information about the Contact Lens Challenge, the Lensplan scheme, and all of the fantastic corrective lenses available, pay a visit to the Scrivens Opticians website today.
Company Information
Terms & Conditions
Terms and conditions: Offer is based on the customer undergoing a contact lens trial. Customers must have a valid prescription. Contact Lens suitability is based on a full clinical assessment by one of our qualified Opticians. Half price contact lenses offer includes half price £40 fitting fee and three months half price when registering on Lensplan. Offers are valid until 31st May 2013 and can be withdrawn at any time. £100 voucher is only issued when the Optician assesses that the customer is not suitable for contact lenses based on clinical criteria only. Offer is based on a minimum spend of £150 when purchasing a complete pair of glasses (frame and lenses).
Voucher is non-transferable and cannot be used in conjunction with any other offer. No cash alternative. Voucher expires 31st July 2013. No cash alternative.