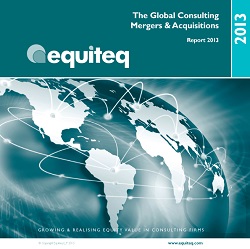 We are very happy to have Equiteq on our advisory team helping us to define and roll out our strategy. Their market knowledge, credentials in the consulting sector, and innovative approach to our acquisitive growth plan was instrumental in making the deal
London (PRWEB UK) 20 May 2013
Equiteq is a consulting sector merger and acquisition specialist providing both growth advisory and M&A transaction services to the global consulting industry. Paul Collins, Managing Partner at Equiteq, said:
"Molten is a world class energy consulting firm and we are delighted to be playing a role in its growth strategy. One of the challenges for highly specialized boutique consulting firms like Molten, is to scale the business when high quality consultants with the right calibre are in short supply. Acquisitions are a solution, but they have to be exactly in the right niche. Also, boutique firms don't have the deep pockets of the Big 4, so the deal structure needs to work for both parties. We have a formula to achieve that and we are pleased that we have been able to facilitate a deal between Molten and Polestar."
Molten is a global transformational change consultancy focused on organisational improvement and business efficiency in the Energy Sector. It operates in the three main energy hubs, Houston, London and Moscow. Irene Molodtsov, Managing Partner at Molten said:
"In response to demand and our growing client base we are expanding our footprint in the UK, USA and Russia. This acquisition is a great step forward in our plan as it creates new client relationships and delivery capabilities in the USA. We are very happy to have Equiteq on our advisory team helping us to define and roll out our strategy. Their market knowledge, credentials in the consulting sector, and innovative approach to our acquisitive growth plan was instrumental in making the deal happen with Polestar."
For more information and media enquiries, contact Tony Rice on +44 203 651 0607, tony(dot)rice(at)equiteq(dot)com, or visit http://www.equiteq.com/report to download our Global Consulting M&A Report.
About Equiteq
Equiteq is a consulting sector M&A specialist. We work with consulting firm shareholders, helping them to achieve their business objectives and exit strategies. Our services are designed to deliver great returns for our clients, by accelerating revenue, profit and equity value growth, and ultimately realizing that value in a trade sale or other type of liquidity event. If consulting company valuation or any of these objectives are on your agenda, then please contact us.