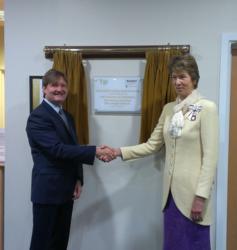 We want to be able to provide more exceptional learning opportunities for even more students and this new venture will help us to do this
(PRWEB UK) 18 May 2013
The Lord Lieutenant of Hertfordshire was given an extensive tour of the education Federation – including a visit to Harpenden's state-of-the-art High Street training salon for budding hairdressers – before she pulled the cord to reveal a plaque announcing the establishment of the new partnership.
The Barnfield Teaching Schools Partnership offers exceptional teacher training and professional development programmes to help aspiring teachers excel in their career.
It provides peer-to-peer support, continuing professional development (CPD) and outstanding teaching mentors.
The work of the Teaching School will close the gap for identified vulnerable and underachieving groups to raise attainment and standards.
There will be systematic management of talent within the Teaching School to bring through the next generation of headteachers for all schools – identifying and developing any teachers with the potential to take on a headship.
More than 60 people also attended the Barnfield Teaching Schools Partnership Open Afternoon which followed the launch event, in which schools, aspiring teachers and education organisations were able to ask questions about the bespoke programmes being delivered by the education specialists.
Barnfield Director General Sir Peter Birkett said: "Our new Teaching School Partnership will allow us to improve teaching and learning across the Federation and, by working with partner schools in Luton, will also allow us to raise standards and outcomes across the town. We want to be able to provide more exceptional learning opportunities for even more students and this new venture will help us to do this."