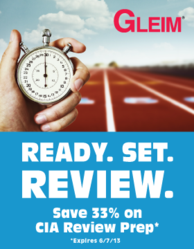 Gleim review materials provide a complete reference and insight required for the CIA examination. Along with my experience as an auditor, Gleim helped me to clear the CIA examination on the first attempt.

Sarath Kumar, CIA Candidate
Gainesville, FL (PRWEB) May 24, 2013
Gleim, the experts in CIA review, are offering a special on the 16th edition CIA review materials. Save over 33% on Parts 1-4 today. With over 30 years of experience, Gleim has refined the art of preparing candidates to pass the CIA exam. With materials expertly authored by actual professors and questions from past CIA exams, Gleim is the right choice to assist with your goal of becoming a CIA.
Starting July 1st, the CIA will transition from a 4-Part exam to a 3-Part exam. CIA applicants will be able to register for the 4-part exam through June 30, 2013, and will have through December 31, 2013 to complete the exam.
Taking the 4-Part exam allows candidates to benefit from the experience of their peers who have already passed the CIA. The current exam is tried and tested, so candidates should sit for as many parts of the 4-Part program as they can. Candidates who pass Part(s) 1 or 2 of the current 4-Part exam will be exempt from the respective part of the 3-Part format if they transition to the new exam. As part of the transition, current Parts 3 and 4 will merge into one part. The new Part 3 will now contain more information than before, and will take longer to prepare for. Candidates who are exempt from taking Part 4 should register to sit for the current Part 3 exam as soon as possible to avoid the new, longer format of Part 3.
In an effort to encourage candidates to take the current 4-Part exam, Gleim has reduced the price of the CIA Review System for each part to $150 and the Review System for all 4 parts to only $550.
The 16th edition is perfect for candidates trying to fast track becoming a CIA. The multi-platform system is not only convenient, but also has all the tools candidates need to pass quickly. Every Gleim CIA Review system includes books, thousands of exam-emulating questions, online courses that include presentations, audio downloads, and access to exam experts who are able to guide candidates toward passing the CIA exam.
If candidates are confused as to which exam format to take, they should contact Gleim today. Gleim is happy to offer personalized, expert advice on which exam would most benefit a CIA candidate's specific situation.
Try Study Unit One of Gleim CIA Review today, or purchase CIA exam review here. Remember, this special offer is only good until June 7, 2013.
Good luck CIA Candidates!
Team Gleim
800.874.5346
accountingteam(at)gleim(dot)com