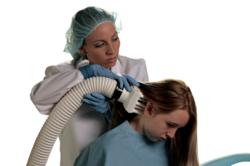 "The way we treat lice is completely changing. OTC shampoos are no longer working, because lice have developed a resistance to pesticides and other chemicals. Combing takes hours and weeks, and by that time lice have already spread and the infestat
Plaistow, New Hampshire (PRWEB) May 21, 2013
For parents who are at their "wit's end" with head lice, there is now a solution: Nitsend in Plaistow, New Hampshire, on the Massachusetts border. Families in New England now have a place for safe, effective head lice removal, without chemicals or hours of combing.
Nitsend would like to offer 20% off of their treatment for the month of June. Spring has fully sprung bringing a rise in head lice cases.
Owner, Christine Cherry and her technicians are trained operators of the LouseBuster—an FDA-Cleared Medical device that kills all stages of head lice, including the eggs, in a one-time, 30-minute treatment. This is the first head lice salon in Northern New England to use the FDA-Cleared device.
The LouseBuster device was developed by biologists at the University of Utah. Clinical Studies show that the device, which uses controlled, heated air delivered by certified operators, provides a safe, fast and effective treatment that kills lice and their eggs through rapid dehydration.
"The way we treat lice is completely changing. OTC shampoos are no longer working, because lice have developed a resistance to pesticides and other chemicals. Combing takes hours and weeks, and by that time lice have already spread and the infestations continue. The LouseBuster takes care of the problem in just a half hour, and it's chemical free," explains Christine.
Christine decided to start Nitsend in 2011, as a mobile business. After a successful first year, in order to reach the growing demand for treatment, she opened up a salon.
As an elementary school teacher, Christine knows how quickly infestations can get out of hand, and the problems that come with missed school-days and stress on parents and schools when students are found with head lice.
"The LouseBuster can save so many students from missing class, as well as many parents from missing work. We're so honored to be a part of bringing this device to our community, and providing a safe, effective, chemical free, treatment because we know what an impact it will make to our entire state, and the surrounding areas," says Christine.