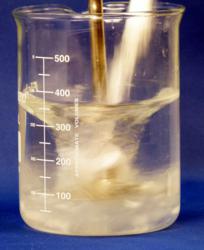 Tokyo, Japan (PRWEB) May 17, 2013
Along with Ogawa & Company, Ltd., TIC Gums will demonstrate FASTir Xanthan EC to food and beverage manufacturers at the 18th ifia JAPAN 2013 Conference at the "Tokyo International Exhibition Center Tokyo Big Sight" (http://www.ifiajapan.com/2013/en/index.html). TIC Gums will exhibit as part of the Ogawa & Company Ltd. booth. TIC Gums business in Asia and commitment to the region continues to grow.
Manufacturing Advantages
FASTir Xanthan EC offers consistent quality with better ease of use for dressings, sauces, and beverages in applications where traditional xanthan gum is used. Made with proprietary technology available only from TIC Gums, FASTir Xanthan EC hydrates up to 85% more quickly and disperses more completely than all but the most expensive, western sourced xanthan gum products. The benefit to manufacturers is less re-work and reduced batch times without any added investment for capital equipment or additional staff.
With FASTir Xanthan EC, food and beverage companies in Asia will be able to better to manage texture and stability. Managing moisture in food is important to delivering the preferred texture, quality and shelf stability of sauces, dressings and/or gravy (http://www.ticgums.com/ifia-japan-2013).
Fewer Challenges
The usefulness of FASTir Xanthan EC eliminates many of the challenges associated with xanthan, while maintaining product quality. Significant amounts of unblended xanthan gum have to be screened and/or physically removed from process batches because they will not dissolve. Adding to the challenge is the need for xanthan to later be added back to the process, replacing the un-dissolved amounts that were removed earlier. This drives up raw material costs and adds time to the manufacturing process. Further, FASTir Xanthan EC does not require any extra processing steps like the preparation of oil based slurries. Instead, FASTir Xanthan EC can be added directly to the tank without pre-treatment.
With the knowledge that a percentage of xanthan gum will never blend, be removed and then later replaced, buyers will have to buy more than what is needed. While percentage overruns will vary by location and use, the better blending capability of FASTir Xanthan EC provides value for manufacturers in the form of lower ingredient costs, and time lost.
About TIC Gums
TIC Gums is a global leader in advanced texture and stabilization solutions for the food industry. Food and beverage companies rely on TIC Gums to improve the texture, stability, consistency, nutritional profile, and shelf appeal of their products. Legendary customer service, high quality standards, and the unrivaled knowledge of our Gum Gurus® has made TIC Gums the industry leader for more than 100 years.