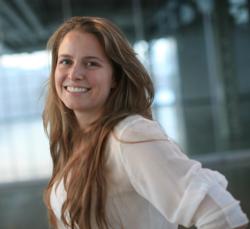 Having dinner with Sir Richard Branson can only inspire me to become a better leader and to reach for the sky.
Montreal, Quebec (PRWEB) May 20, 2013
Three years ago, LuxeInACity co-founder and President Roxanne Genier had a vision: A boutique luxury agency that would connect luxury fans from around the globe with high-end brands through a private concierge and digital concierge service. Since then she and her sister Maxine Genier have been working to make this dream a reality, and the duo's most recent win has made it all worthwhile: Roxanne has been named one of Quebec's top 25 emerging entrepreneurs in the Claudine and Stephen Bronfman Family Foundation's emerging entrepreneurs contest. The prize? A VIP ticket to C2-MTL, the creativity and entrepreneurship conference held May 21 to May 23, 2013 at Arsenal in the historic Griffintown neighbourhood of Montreal.
Valued at $3600, the ticket includes a three day pass to the cutting edge international business conference where the 25 winners, along with 3000 attendees, will have the opportunity to rub elbows and share ideas with some of the most successful business people on the planet. Speakers include none other than Virgin Group Founder Sir Richard Branson, architect Philippe Starck, cosmetics queen Bobbi Brown, model and businesswoman Elle Macpherson and fashion maven Diane Von Furstenberg.
On top of listening to the stories behind the success of these big names, the 25 winners will have the chance to get their creative juices flowing at interactive exhibits, multimedia presentations, collaborative workshops, creativity Boot Camp and evening festivities, which the speakers will attend as well.
As part of her prize, Roxanne will go to several workshops, including two on May 21st. The first is a private group seminar with Blake Mycoskie, founder of TOMS shoes and the man behind the One for One movement which has delivered two million shoes to children in need since 2006. The second is a seminar with two ministers: Jean-François Lisée, Quebec's Minister of International Relations, and Fleur Pellerin, France's Minister of Small Business and the Digital Economy.
On May 23rd, Roxanne will attend a conference with Just for Laughs President Andy Nulman. Not your average presenter, Nulman's speech will be based on photos he's never seen before, provided by the audience and projected, at random, onto the screen behind him. Talk about nerve wracking!
As if attending the conference wasn't exciting enough, on Monday, May 13th, Roxanne was one of five emerging entrepreneurs randomly selected to attend a private dinner with Sir Richard Branson. Now if only she can score a seat next to him.
For a complete list of Quebec's top 25 entrepreneurs and to learn more about C2MTL, visit c2mtl.com/bronfman