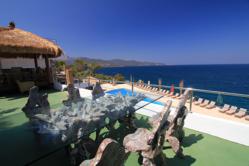 Aida Tourism the chic & stylish Turkey Destination Management Group out of Istanbul with strong yachting ties in Bodrum announces its first resort project.
(PRWEB) May 19, 2013
Aida Tourism, the chic & stylish Turkey Destination Management Group out of Istanbul with strong yachting ties in Bodrum, announces its first resort project. Situated on stunning Torba Bay, Shamana Hotel and Spa is the ultimate chic beach retreat.
Accommodations
The resort features 31 suites, ranging from 50-125 square meters of indoor and outdoor space, as well as 2 beach cottages with access to the turquoise waters of Torba Bay. All suites and cottages present stunning, 180-degree views of the sea. Six different types of suites are available, all featuring oversized living spaces, terraces and bedrooms overlooking the Aegean Coast. King Moussollos Suites are made for family stays, with two bedrooms and two bathrooms, a whirlpool and butler service. Queen Artemisia Suites cater to honeymooners with whirlpools, butler service and 100 square meters of space. Princess Ada Suites (70 square meters) tout whirlpools and terraces, while the Lydia Rooms (50 square meters) offer an option of private garden or sea-view terrace. Alynda Suites (52 square meters) feature a whirlpool and terrace, while Karia Rooms have beautiful glass connecting doors.
Activities
Tours of nearby cultural attractions can be arranged, including private diving with archaeologists to underwater heritage sites, exploring the ancient Halikarnas culture in Bodrum and a trip to Ephesus, the grave of the Virgin Mary. Sport fishing, surfing, snorkeling, sailing and sunset cruises on the Aegean are also offered. Trips to local vineyards, olive oil producers and food markets can be organized. Private dining, as well as special festivities for birthdays and weddings will be facilitated on request.
Dining
Cafe de Oliva -- The casual restaurant serves Turkish wines alongside cuisine fusing Aegean and Mediterranean flavors.
Beach Club
A beachfront cafe and bar that's perfect for cocktails and light snacks.
Vodka-Caviar Bar
Lounge on comfortable couches and nibble on classic Turkish meze (appetizers) with wines, cocktails and champagnes.
Sisha Bar
Flavored tobacco prepared exclusively by onsite butler for full relaxation.
Spa & Fitness
Wellness and relaxation are emphasized throughout the resort. Get fully pampered at our holistic healing center, where traditional Ottoman Hamam treatments meet Indonesian massage techniques. Enjoy a soothing spa experience in a room overlooking the sea and gardens. Private yoga and pilates sessions with our personal trainers will also enhance your stay.
RESORT CONTACT
info(at)shamanahotels(dot)com
tel +90 252 337 12 00
fax +90 252 337 11
ADDRESS
HEREDOT BULVARI 9
KAYNAR TORBA BODRUM
AIDA TOURISM & SHAMANA RESORT
PROPRIETOR INFORMATION
Mrs. Adviye BERGEMANN
adviye(at)aidatours(dot)net
AIDA TOURISM
Istanbul Cad. Kartal sk. G1 Blokları
B Blok No:3 D:10
Gokturk - Eyup - Istanbul
TEL : +90 212 322 43 90
FAX : +90 212 322 43 92
http://www.aidatours.net
http://www.shamanahotels.com
http://www.ghotw.com