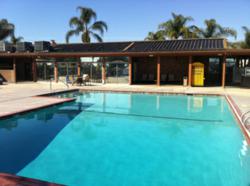 Put SUN in your pool
Hamilton, Indiana (PRWEB) May 20, 2013
Summer has finally come around. The long wait for the pool to open is over. Finally, the american population can walk outside under bright sun light instead of being surrounded by cloudy days that are full of whipping, fringed wind and blowing snow. Solar Usage Now (SUN) is just as excited as anyone to get the summer going. In fact, SUN has added a new product to its line, and it's a perfect time of year to do it. Powerstrip Solar Pool Heaters has been around since 1986 thriving in one of the most practical areas of solar energy, pool heating.
Today, pool heaters aren't the plastic black rectangles haphazardly thrown on the roof of a house with careless roof penetrations. Instead, Powerstrip's heating system can be sized and fitted to shingle roofs, tile roofs, flat roofs, racks, and direct ground mounts. The flexible solar tubing strip can handle freezing and hectic weather conditions. So how does it work? The existing water and filter pump are used in this solar heating system. The pump circulates the water through the flexible black tubing and heats up during its journey though the pumps. The water is then dumped back into the pool.
Why use solar to heat a pool? The heater allows for an extended swim season. It provides the lowest annual operating costs and is a clean form of energy. The system has a long life span and requires little maintenance.
For more information log onto solarusagenow.com or contact us via email at info(at)solarusagenow(dot)com.