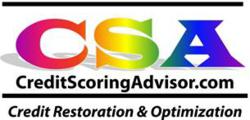 Melville, NY (PRWEB) May 17, 2013
In the life and times of a regular Mortgage Loan Officer, a bad credit score is a common fact of life especially after the mortgage meltdown. Mortgage loan officers are often unable to get their clients approved, just because of bad credit scores. This certainly does not mean that those clients have to be kept away from a obtaining a mortgage, fixing the credit score is the best solution there is. For this reason, mortgage loan officers often find themselves paving through credit repair companies with mediocre skills, seldom achieving the results needed. Credit Scoring Advisor gives a few good reasons why mortgage loan officers should opt for its services.
1. Perhaps the best part about working with CSA is that people get to work directly with the owner of the company, the renowned Mr. Daniel Sater. This saves a massive amount of hassle in making contact, getting questions answered, or going through these tense times by having someone there to hold their hand throughout the process. Mr. Sater surely doesn't require an introduction, keeping in mind the name that he has established in the national credit repair industry. Working with the vast majority of credit repair companies and working with a Nationally Recognized Credit Expert surely is different.
2. CSA also has a rich, amazing history of thousands of cases of successful credit repair.
3. With experience of 16 years as a Mortgage Loan Originator and Licensed Real Estate agent, the owner guides CSA in offering personalized expertise that considers every case separately, remaining ever accessible for the loan officers.
4. The credit repair program offered by the company is quick and efficient. In the light of its history, most of the clients become mortgage eligible in less than 3 months.
With significant experience in the Real Estate and Mortgage Industries, CSA knows just what is required to get the job done. The company also takes pride in having trained and coached numerous Credit Repair Companies, accumulating valuable experience, while helping others do the same.
To know more about CSA, visit: http://www.creditscoringadvisor.com/
Visit our YouTube channel by clicking here: http://youtu.be/51hjev8TES0
About CSA:
Daniel Sater at Credit Scoring Advisor is CreditCRM Certified and a Certified FICO Professional. With an immense amount of accumulated experience in the field, the company has helped thousands of people from all over the country improve their credit scores greatly. Going about a simple yet effective approach, the company specifically targets outdated, questionable and inaccurate entries in a report, ensuring that the final credit score is much higher than ever before. The repair is carried out with CSA's collaboration with the client, major Credit Bureaus and the creditors involved.
Contact:
Mr. Daniel Sater
Credit Scoring Advisor
631-392-8685
555 Broadhollow Rd Suite 329 Melville, NY 11747
Marketing(at)CreditScoringAdvisor(dot)com
http://www.CreditScoringAdvisor.com