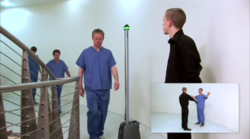 Cellsense employs a unique military-developed technology to detect contraband carried on or within the body and provides superior detection of cell phones, on or off, and concealed or not
(PRWEB) May 21, 2013
Cellsense®, the leading cell phone contraband detector for prisons, announces unique features to enhance security. Unlike conventional metal detectors which can miss concealed or small phones, Cellsense detects all cell phones, even those switched off or concealed in a body cavity.
"The illicit use of cell phones in prisons is recognized as a worldwide problem. Inmates use contraband cell phones to intimidate witnesses, threaten victims, organize crimes and plot escapes," according to Pat Smith, spokesperson for Cellsense. On April 26, 2013, ABC2News reported that a witness was shot before he could testify, with officials claiming the hit was called in from a cell phone in the local Baltimore city jail, in an article entitled, "Lawmakers divided on solution to jail corruption".
"Cellsense employs a unique military-developed technology to detect contraband carried on or within the body and provides superior detection of cell phones, on or off, and concealed or not," adds Smith. Cell phones are increasingly manufactured with reduced metal content, making detection using conventional metal detectors less certain. According to Smith, "Cell phones do however contain essential components that Cellsense detects using our proprietary military technology."
Besides cell phones, prisons also struggle with other smuggled contraband including weapons. On April 24, 2013, Time U.S. reported a major scandal in the same Baltimore corrections system which netted an indictment of 25 people — including 13 prison guards — on charges of drug conspiracy, racketeering and contraband in an article entitled, "Racketeering, Smuggling, Sex with Guards: 25 Indicted in Massive Baltimore Prison Scandal." Smith says, "the Cellsense solution detects not only phones, but also other contraband, including knives and small blades, keeping correctional facilities ahead in the fight against inmate contraband."
About Cellsense
Cellsense is the cell phone contraband detector for prison safety, and part of our leading innovative detection technology used in the security industries. Cellsense protects correctional facilities, security personnel and the public around the world from the dangers of smuggled inmate cell phones and weapons.