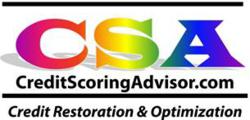 Melville, NY (PRWEB) May 18, 2013
Even though time passes at a very rapid, more often than not one finds himself pondering over mistakes of the past. One bad loan or an ever a single missed payment, and down goes your immaculate credit score. Obviously, there is no use crying over spilt milk. When such a person comes across the need to get a mortgage, the same mistakes reappear in the form of terrible mortgage rates and bad offers, if you still qualify at all. This can make a person fall into a vicious cycle of worrying about getting a mortgage and what to do about the bad credit score. There might just be a single solution to this issue; Credit Scoring Advisor.
There already is a lot of information on the internet regarding the efficacy of Credit Scoring Advisor and its owner, the renowned Daniel Sater. Working with cases individually, going about a rapid effective approach while holding hands with the client throughout the procedure, the company maintains an excellent track record of enhancing even the worst of credit scores. One of the facts that differentiates CSA from the rest of the credit repair companies is it's relationships with some of the best Mortgage companies. This ensures that CSA can help its clients get the best mortgage offers by first fixing the score incredibly and then transferring the cases to a skilled Mortgage Loan Officers for the best recommended mortgage programs. Not only can the whole procedure prove beneficial for the credit score in general, but it can also do wonders for clients that were looking for mortgage offers in particular.
"I'd have to say you are the first person in this industry (or others) who truly "gets it" when it comes to credit scoring and credit", says Bobby McBride (former manager at Fair, Isaac Corp. [the developers of the FICO credit scoring model] and a manager at the Experian Credit Bureau). This is a small sample from one of the hundreds of testimonials that CSA receives on a regular basis.
To know more about CSA, visit: http://www.creditscoringadvisor.com/
Visit our YouTube channel by clicking here: http://youtu.be/51hjev8TES0
About CSA:
Credit Scoring Advisor is CreditCRM Certified and a Certified FICO Professional. With an immense amount of accumulated experience in the field, the company has helped thousands of people from all over the country improve their credit scores greatly. Going about a simple yet effective approach, the company specifically targets outdated, questionable and inaccurate entries in a report, ensuring that the final credit score is much higher than ever before. The repair is carried out with CSA's collaboration with the client, major Credit Bureaus and the creditors involved.
Contact:
Mr. Daniel Sater
Credit Scoring Advisor
631-392-8685
555 Broadhollow Rd Suite 329 Melville, NY 11747
Marketing (at)CreditScoringAdvisor(dot)com
http://www.CreditScoringAdvisor.com