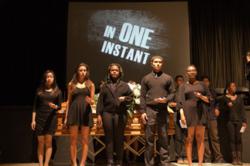 "We're telling our teens, 'Enjoy the summer, go to parties, go to the beach,'" said In One Instant Co-Founder Gail Schenbaum Lawton. "Just make smart driving choices, so your friends don't have to drive to your funeral."
Los Angeles, CA (PRWEB) May 17, 2013
In One Instant is showing high school students they have the power to change the formula that creates the "100 Deadliest Days for Teen Drivers". These are the days between Memorial Day and Labor Day, infused with proms, graduation parties, long weekends and July 4th celebrations, all of which spur distracted and impaired driving, fueling the number one killer of teenagers today: car crashes. In One Instant empowers students to save lives.
"We're telling our teens, 'Enjoy the summer, go to parties, go to the beach,'" said In One Instant Co-Founder Gail Schenbaum Lawton. "Just make smart driving choices, so your friends don't have to drive to your funeral."
The In One Instant school safe driving program is an award-winning, emotionally charged experience, designed to instill a lifelong behavioral shift in teens. Through peer engagement, it gets students to make safe driving choices and influence their friends to do the same. The In One Instant co-founders, all parents of high school students, work closely with specialists to customize the program to meet the specific needs of each school.
The program starts with a workshop to prepare selected students and parents to lead an all-school assembly. Assembly highlights include "In One Instant" short film screening, haunting funeral dramatization, "Today I Died" letter readings, and taking the "Vow to Live". All students are then urged to join the In One Instant school club to spread safe driving tools to their peers.
Students have expressed how In One Instant has motivated them to change their driving behaviors.
"As soon as the spotlight hit the casket you could tell everyone was like, 'This isn't just another assembly where we horse around and make jokes.' Kids were really paying attention," commented "Samohi" student Olivia CoriaSoria in an April 5th Santa Monica Daily Press interview. "I feel it was the most powerful and most moving assembly we probably could have had at Santa Monica High School."
Another "Samohi" student, Vanessa Perez, described her experience in a recent Santa Monica Mirror article. "It really hit home when I, myself, and my mother wrote a goodbye letter to one another. I didn't believe I would have such a hard reaction while reading it aloud to my peers but I just broke down and cried. I'm so much more cautious while driving and while I'm in the car with others."
School administrators find In One Instant easy to implement, fitting flexibly into school schedules and taking very little teacher and administrator time. And they see results immediately.
"It really moved me to see the impact it had on our students," Dan Blank, Assistant Principal at University High in Los Angeles, wrote in a thank you letter. "What a dramatic shift in tone and tenor from the first 15 minutes to the last 30 minutes. I am certain that your work will save countless lives. I sincerely hope we continue to provide this service to our school community."
In One Instant has also been praised by the California Highway Patrol, Los Angeles Police Department, Los Angeles Fire Department, Los Angeles County Department of Public Health, Los Angeles County Medical Association and UCLA School of Public Health.
The next In One Instant will take place on Wednesday, May 29 at Culver City High School for approximately 1200 students, and this fall at Venice High and other L.A.-area schools. The co-founders plan to bring In One Instant to schools across the U.S. and Canada in the future.
ABOUT IN ONE INSTANT
The award-winning In One Instant school safe driving program is produced by Gail Schenbaum Lawton, Cheryl Wada and Debbie Barnett. They are the co-founders of Streetwise Media, a non-profit organization operating in association with the 501(c) (3) Community Partners. State Farm and Fineshriber Family Foundation are the major sponsors of In One Instant, with additional support and services provided by Wells Fargo, Uber, AT&T, Dignity Gates Kingsley & Gates Moeller Murphy Funeral Directors, Tip Top Tow Service, South Bay Center for Counseling, Ojai Foundation, and NK Production.
Visit: http://www.inoneinstant.org
Press Contact: Dahlia Greer, dahlia (at) dahliagreerpr (dot) com