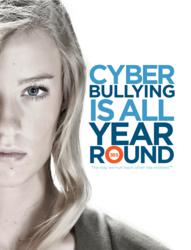 We can learn a lot from what happened to Megan, Hope, and Johanna, and shame on us if we don't do things better the next time. - Justin Patchin Cyberbullying Research Center
Atlanta, GA (PRWEB) May 20, 2013
Several well-known organizations are partnering with Submit the Documentary to expand awareness on the topic of cyberbullying, including The National Federation of Just Communities of WNY Inc., Safe Online Outreach Society, Global Anti-Bullying Autism Campaign, and Kay Stephens, author of Cyberslammed.
Alice Cahn of Cartoon Network's "Stop Bullying and Speak Up" describes Submit the Documentary: "It's an impressive collection of interviews with key experts in the field; and offers a sobering look at a devastating health issue affecting America's and the world's youth." Cahn is also a featured expert in Submit the Documentary and she has had worldwide influence on spreading awareness on bullying.
Lana Benatovich expresses, "The NFJC of WNY, Inc. is proud to partner with on‐going discussions of Anti‐Bullying efforts. An important issue facing so many young people and adults alike, Submit the Documentary is a powerful tool in the effort to enlighten the community about the complex issues surrounding bullying. Tragically, so many are and can be affected by bullying, and this documentary points to the ways in which the community can come together to support Anti‐Bullying efforts both locally and nationally to help reduce the incidence. The NFJC of WNY, Inc. will continue to partner with important initiatives such as Submit the Documentary to encourage and foster positive dialogue and change towards eliminating bullying in all forms."
What is Submit the Documentary? The way we hurt each other has evolved ™. In today's digital generation, we stay in touch with the world and our friends through our phones, tablets and laptops. Digital devices are glued to our hands. It is easy to be invisible online. Anyone can be a cyberbully. The film features interviews from affected teens, parents of victims, educators, experts and law enforcement as they tackle this worldwide issue, while offering solutions to this complicated problem.
A special screening of Submit the Documentary along with parent informational night about cyberbullying that will take place at 6:30 p.m. Wednesday, May 22, at the Kroc Center Auditorium, 1765 W. Golf Course Road, ID.
Host your own private screening of Submit the Documentary to raise awareness on cyberbullying and that this growing trend #NeverQuits. http://www.submitthedocumentary.com/screenings
More Information
Safe Online Outreach Society
http://www.safeonlineoutreach.com/
The National Federation of Just Communities of WNY Inc.
http://www.nfjcwny.org/antibullying.html