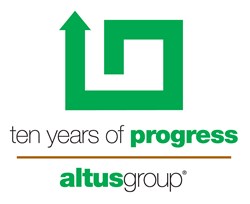 Bethlehem, PA (PRWEB) May 17, 2013
Launched in 2004 as a collaborative enterprise to bring an innovative technology to the architectural products market, AltusGroup, Inc. is celebrating 10 years of continual membership growth and marketplace acceptance. Members of the organization marked the milestone at AltusGroup's annual general meeting, April 24, 2013, in Chicago.
The progressive precasters, which include founding members Metromont Corporation, High Concrete Group LLC and Oldcastle Precast Building Systems, conceived the group to market precast concrete enclosure systems and double tees under the CarbonCast® brand name. CarbonCast products use C-GRID® carbon fiber grid connectors and reinforcing elements. They have been joined by 11 other precast companies and three international affiliates to offer CarbonCast to a majority of the United States.
More than 27.5 million square feet of CarbonCast surface area has been installed on 670 structures since AltusGroup's genesis – including 5.5 million square feet on 140 structures in 2012 alone.
An advanced generation, high-performance precast product, CarbonCast Enclosure Systems have clear sustainability advantages that have contributed to its acceptance. The need for continuous insulation to meet ASHRAE 90.1 energy codes makes CarbonCast especially appealing. And the corrosion resistance of C-GRID provides peace of mind for garage owners who are looking for double tee flanges that stand the test of time.
"From 30-story condominiums to 500,000 square foot warehouses, 600-space parking garages and hundreds of other projects from Connecticut to Hawaii, CarbonCast technology has proven to be everything we expected," said Tom Holmes, newly elected chairman of the AltusGroup board of directors. "The collaborative engineering and marketing efforts among our members sped the introduction of a breakthrough technology more quickly than any member could have done it alone – if they could have done it at all. Our success is a tribute to the power of our partnership."
In 2012, AltusGroup hired its first-ever full-time executive director, John Carson, underscoring the organization's continued growth and progress. Other milestones in AltusGroup's decade of existence include the innovation of a novel C-GRID embedment machine for CarbonCast Double Tees, the development of CarbonCast Insulated Architectural Cladding (a sandwich-type architectural panel with continuous insulation), and hosts of industry honors ranging from Architect magazine's prestigious "R+D Awards," Architectural Products "Product Innovation Award" and recognition from Concrete Producer as an "Industry Influencer."
AltusGroup's organizational structure is as innovative as the products its members market. Based on the concept of "co-opetition," AltusGroup members collaborate on product development, testing, best practices and marketing then compete for projects in their respective markets. The concept, more common in high-tech circles than manufacturing, has brought together some of the best engineering and marketing minds in the precast industry – and remains the cornerstone of the organization moving forward.
"In the next 10 years, we expect to see additional member growth, continued product acceptance, ongoing product development and even more technological innovation on top of CarbonCast," said Carson. "We've accomplished a lot in 10 years. But there's much more opportunity that awaits."
About AltusGroup
The first-ever national partnership of precast companies, AltusGroup was founded to develop, manufacture and market precast innovations such as the award-winning CarbonCast® line of products featuring C-GRID carbon fiber grid reinforcing. With more than two dozen structural and architectural locations in the United States, the 14 AltusGroup companies and three international affiliates have an unparalleled network of manufacturing plants, technical staff and sales personnel to ensure architects, engineers and contractors get the help they need—and the quality and performance they expect—when they select CarbonCast products. For more information, visit altusprecast.com or call 866-GO-ALTUS.
# # #