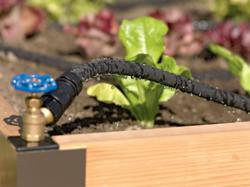 Milwaukee, WI (PRWEB) May 17, 2013
Spring floods, summer droughts and temperature extremes take their toll on gardens and the gardeners who tend them. Help gardens recover from the crazy temperature and moisture extremes that seem to occur each year. Myers suggests the following steps to revive gardens and keep them looking their best.
Start by assessing the current condition of the landscape. Remove dead plants as soon as possible. They can harbor insect and disease organisms that can infest healthy plantings. Consider replacing struggling plants with healthy plants better suited to the space, growing conditions and landscape design. Often times, it is better and less time consuming to start over rather than trying to nurse a sick plant back to health.
Select plants suited to the growing environment and that includes normal rainfall. Every season is different, but selecting plants suited to the average conditions will minimize the care needed and increase the odds for success. Roses, coneflowers, sedums and zinnias are just a few drought-tolerant plants. Elderberry, ligularia, Siberian iris and marsh marigold are a few moisture tolerant plants.
Be prepared for the worst case scenario. Install an irrigation system, such as the Snip-n-drip soaker system, in the garden. It allows gardeners to apply water directly to the soil alongside plants. This means less water wasted to evaporation, wind and overhead watering. It will also reduce the risk of disease by keeping water off the plant leaves.
A properly installed and managed irrigation system will help save water. The convenience makes it easy to water plantings thoroughly, encouraging deep roots, and only when needed. Turn the system on early in the day while tending to other gardening and household chores. There will be less water wasted to evaporation and it will save time since the system does the watering for the gardener.
Capture rainwater and use it to water container and in-ground gardens. Rain barrels and cisterns have long been used for this purpose and are experiencing renewed interest. Look for these features when buying or making a rain barrel. Make sure the spigot is located close to the bottom so less water collects and stagnates. Select one that has a screen over the opening to keep out debris. And look for an overflow that directs the water into another barrel or away from the house.
Add a bit of paint to turn the rain barrel into a piece of art. Or tuck it behind some containers, shrubs or a decorative trellis. Just make sure it is easy to access.
Be sure to mulch trees and shrubs with shredded bark or woodchips to conserve moisture, suppress weeds and reduce competition from nearby grass. This will eliminate the need for hand trimming, while protecting trunks and stems from damaging weed whips and mowers.
Invigorate weather worn perennials with compost and an auger bit. Spread an inch of compost over the soil surface. Then use an auger bit, often used for planting bulbs, and drill the compost into the soil in open areas throughout the garden. The compost will move closer to the root zone of the plants and the soil will be aerated with this one activity.
A little advance planning and preparation can reduce the workload, save time and increase gardening enjoyment.
Gardening expert, TV/radio host, author & columnist Melinda Myers has more than 30 years of horticulture experience and has written over 20 gardening books, including Can't Miss Small Space Gardening. She hosts the nationally syndicated Melinda's Garden Moment TV and radio segments and is a columnist and contributing editor for Birds & Blooms magazine. For gardening tips, gardening videos and more visit Myers' web site at http://www.melindamyers.com