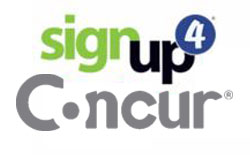 We are thrilled that SignUp4 will be among the esteemed apps in the Concur T&E Cloud ecosystem
Atlanta, GA (PRWEB) May 22, 2013
SignUp4, the leading provider of strategic meetings management technology, today announced a partnership with Concur, the global leader in integrated travel and expense management. SignUp4 is available in the Concur® App Center helping businesses and travelers discover applications that deliver significant value to the enterprise as well as to the business traveler.
The direct integration of SignUp4's Spend Management System with Concur's Expense Management tool will allow clients to streamline processes through automation and easily tie expenses to related meetings. Pairing actuals to specific meetings or events will enable organizations to measure and better control their true total cost of meetings including expenses incurred by employees attending the event.
"We are constantly striving to reduce the workload of our clients. Partnering with Concur on this initiative not only improves the efficiency of travel and expense management but ensures their strategic meetings management programs are tracking often times overlooked spend," said Doug Wetzel, Co-Founder & VP of New Product Engineering at SignUp4.
"We are focused on creating an ecosystem of partners with innovative new products and services for our customers and their employees," said Tim MacDonald, EVP of Platform and Data Services at Concur. "The new Concur App Center will deliver seamless integration via Concur's open platform, and we are thrilled that SignUp4 will be among the esteemed apps in the Concur T&E Cloud ecosystem."
If you're a client of both SignUp4 and Concur, please contact advocates(at)signup4(dot)com to learn more.
About SignUp4
SignUp4 is the innovative meetings intelligence provider offering the highest quality strategic meetings management solutions with an affordable unlimited usage model. The goal of SignUp4′s meetings intelligence suite is to streamline workflows, simplify and drive registrations, efficiently manage travel logistics, improve communications, and provide visibility into meeting spend for leveraging contract negotiations and increasing ROI. With over a decade of experience, 3,500 users and over 80 of the Fortune 500, we understand the value of your time and events. Learn more at http://www.SignUp4.com follow us @SignUp4.