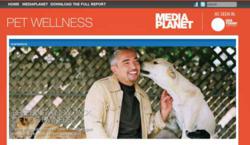 World renowned dog behavior specialist Cesar Millan suggests pet owners "create a feeding schedule for your pet and stick to it every day."
New York, NY (PRWEB) May 17, 2013
One of Mediaplanet's most eagerly anticipated digital campaigns launches today, providing a unique guide to understanding pet health and wellness. In collaboration with dog behavior specialist Cesar Millan, Animal Planet's Tia Torres, American Pet Products Association (APPA), the American Veterinary Medical Association, the U.S. Humane Society and the ASPCA , the launch of the digital campaign will coincide with the release of a 12-page special section 'Pet Wellness' that hits newsstands within the centerfold of USA Today this morning, in the targeted markets of New York, Los Angeles, Chicago and Cincinnati.
To explore the digital version of the campaign, click http://sites.mediaplanet.com/pet-wellness.
Pet Owner Lifestyle
World renowned dog behavior specialist Cesar Millan suggests pet owners "create a feeding schedule for your pet and stick to it every day." This will help prevent disruptive issues and curb overeating. "The dog will eventually learn when to expect food and will not feel so anxious about it," he says.
Because of their busy lifestyles, pet owners often find it challenging to monitor their pets' eating habits. According to Carlos Herrera, co-founder and president of Pintofeed, an estimated 54 percent of dogs and cats in the United States are overweight or obese directly due to overeating and the way we feed our pets. The Pintofeed is the first autonomous pet feeder that allows mobile and remote access for scheduled feedings with the push of a button while sending SMS and social network notifications.
Feed and Learn
Collecting real time data, Pintofeed records the type of food your pet eats, the portion size they consume and how quickly the food is consumed. This information is wirelessly sent to the Pintofeed PetNet server, where it is stored and aggregated with pet feeding data from other pet owners from around the world. Pet owners have the ability to control and monitor pets' feeding regiment and view how it compares with other pets of similar breed and size.
Healthy Pet Today, Happy Pet Tomorrow
Dr. Douglas G. Aspros, president of the American Veterinary Medical Association, recommends pet owners talk to their veterinarian about nutrition in an exclusive feature, speaking about the ins and outs of pet health and prevention. Dr. Aspros urges pet owners to make regular visits to your veterinarian in an effort to team up against preventable conditions.
About Mediaplanet
Mediaplanet publishes focused reports on specific business, healthcare, technology or consumer topics.
Head Publisher/Project Manager
Lauren Hubbard
646-755-7961
Lauren.hubbard(at)mediaplanet(dot)com