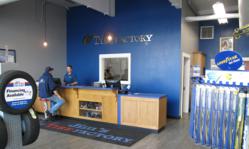 In addition to cost, you need to look at a contractor's speed, design quality and their ability to minimize any interruption to your business
Eugene, Oregon (PRWEB) May 20, 2013
Neil Kelly Company's renovation of Jim's Tire Factory helped this Cottage Grove business win the "Ultimate Store Makeover Award" from the Northwest Tire Factory Group, which operates more than two hundred Tire Factory stores in the Western US. The award recognizes design innovation and customer service.
"We wanted to modernize our building to create an efficient and comfortable experience for our customers. We knew that design and a better space configuration were key," states Jeff Keating, business manager, Jim's Tire Factory.
"We love figuring out solutions for tough design challenges," states Matt White, general manager for Neil Kelly's Eugene office. "We had to update the building, relocate and expand the waiting and mechanical areas, cut energy costs—and not interrupt operations so they could keep their doors open during the renovation."
Project Highlights:

Converted the structure from three 7'6" wide bays on the south end to four 11' wide bays. This required significant engineering.
Relocated the lobby to the center of the building and doubled its size.
Relocated and doubled the size of the mechanical area, including adding a secondary lift to work on cars, and moving them closer to the tire area.
Relocated the tire storage area.
Increased overall energy efficiency and decreased heating and cooling costs.
Green design helps reduce energy costs
The new design also contributes to energy savings. Double-insulated, energy-efficient windows were installed in the large storefront waiting area. And the updated lighting and HVAC system were eligible for grants from the federal government through energy reduction programs. Keating shares, "In addition to creating a more comfortable environment for our customers, we're already saving almost $300 a month on energy costs."
Keating offers the following advice to business owners considering a remodeling project, "In addition to cost, you need to look at a contractor's speed, design quality and their ability to minimize any interruption to your business. Neil Kelly met our timeline and exceeded our expectations."
About Neil Kelly Company
The Neil Kelly Company helps Northwest homeowners care for all aspects of their homes. Services include award-winning design-build remodeling, energy upgrades and home repairs big and small. Established in 1947, the firm has a national reputation for its innovative design-build remodeling and new home construction.
With five Pacific Northwest locations in Portland, Lake Oswego, Eugene, Bend and Seattle, Neil Kelly is renowned for its innovative design and remodeling services, quality craftsmanship and sustainable building practices. Homeowners are invited to visit Neil Kelly design centers or attend free educational workshops. Visit http://www.neilkelly.com.