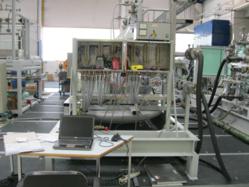 Inspection 4 Industry Provides Pre-Shipment Inspection and Vendor Inspection Services.
Mission Viejo, California (PRWEB) May 19, 2013
Inspection 4 Industry has served the South Korea, Singapore and Indonesia regions with providing of pre-shipment inspection, vendor inspection and commodity inspection services with natural progression. Now, in addition to offering these services in these countries, the company provides similar services in the west European countries.
Inspection 4 Industry pre-shipment inspection and vendor inspection expansion into the European countries was driven by client and industrial equipment purchaser requests. "They requested, we listened and replied," mentioned Bita Emami, Managing Director with Inspection 4 Industry. "Inspection 4 Industry is excited to offer its industrial inspection services in European countries and we are very encouraged by the positive comment and interest we have received from industrial equipment purchasers, importers, sellers, vendors, manufacturers and engineering companies".
Inspection 4 Industry has an appropriate network of competent and qualified inspectors within western European countries. The industrial inspection orders will be coordinated and managed in these countries by our local agents.
As routine practice; Inspection 4 Industry as a Pre-shipment Inspection Company conducts these inspection assignments based on agreed inspection scope between a buyer and seller. Normally the company issues a flash report in same day of inspection and an inspection visit report (IVR) in 48 hours after completion of inspection. The purchaser will be notified about the result of inspection. If result of inspection was satisfactory, then inspection release note (IRN) will be issued and delivered to the vendor or manufacture by inspector. The inspection 4 Industry issues certificate of inspection for consignment that inspected based on letter of credit (LC). In this case the equipment will be inspected based on LC requirements. The quality control records also will be checked as part of inspection duty.
Inspection 4 Industry as Vendor Inspection Company conducts inspection assignment based on approved inspection and test plan (ITP). The inspection is done during the manufacturing process. The company also assists purchasers to prepare their inspection and test plans. In this case our inspectors will visit the European vendor shops several times according to the inspection hold and witness points. Similarly inspection visit report is sent to the purchaser in 48 hours after completion of inspection process.
Inspection 4 Industry is one of the leading industrial inspection service provider companies. The company inspects static (fix) equipment i.e. pressure vessels, heat exchangers, columns, steam boilers, process heaters, etc. Rotary equipment i.e. pumps, compressors, fans, blowers, turbines, etc. electrical equipment i.e. electric motors, electric generators, power transformers, switchgears etc. Instrumental equipment i.e. flow meters, flow switches, DCS systems, instrument panels, etc.